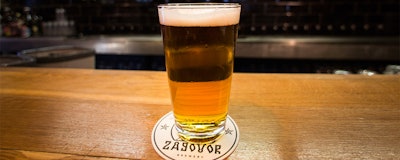 MOSCOW (AP) — Pint by frothy pint, a hoppy revolution is brewing in Russia.
This new generation of craft brewers began sprouting in the vodka capital of the world as foreign beers became too expensive and beer fans sought alternatives to mass-produced lagers. From juicy IPAs to velvety stouts and lip-smacking sours, beers served at breweries that opened in recent years in cities like Moscow and St. Petersburg offer visitors and locals alike the styles popularized in the last two decades by the craft beer boom in the U.S. and Europe.
Many breweries started after the currency collapse of 2014, when imported beer prices skyrocketed and supply fell.
"There was almost nothing being brought from outside," said Alex Korobkov, co-owner of the Zagovor brewery and the RULE Taproom in central Moscow. "So people decided to brew something they had tried outside of Russia."
Korobkov and a group of friends started Zagovor — which translates to "Conspiracy" in Russian — in 2014.
Today, there are over 100 craft breweries in Russia, said Nikita Filippov, co-founder of AF Brew in St. Petersburg, founded in 2012 and one of the craft beer pioneers in Russia. But Filippov said that only around two dozen breweries have their own production capacities or long-term contractual base.
"If nothing dramatic happens in the Russian economics, hops and malt import policies, or beer restriction legislation, the future for craft beer in Russia is promising," said Filippov.
All ingredients have to be imported — hops from the U.S. or Germany, grains from several European countries — and there are only a few facilities with the necessary equipment that serve as contract brewers.
Craft beer still represents a tiny segment of the beer market in Russia — around 1 percent, according to Dmitry Drobyshevsky, who runs the Russian beer trade news site Profibeer and analyzes the market.
Drobyshevsky said the market for Russian is expanding beyond its borders, to Europe and China.
"The Russian brewery Jaws (from Yekaterinburg) started selling beer in China in May," he said. "Russian bars are starting to appear there too."
The surge in Russian craft beer is perfectly timed for the expected tourism bonanza when the country hosts the 2018 FIFA World Cup. Hundreds of thousands of foreign fans, many of them from the U.S. and Western Europe, will visit the 11 host cities.
And few things pair better with beer than soccer.
"They will find a country which is million miles away from old stereotypes about Russia. They will find people who don't have vodka with caviar every meal but have the offer and knowledge in fine foods, fine spirits and craft beers," said Filippov. "They will be greatly welcome to our country by a community of craft beer brewers and drinkers."