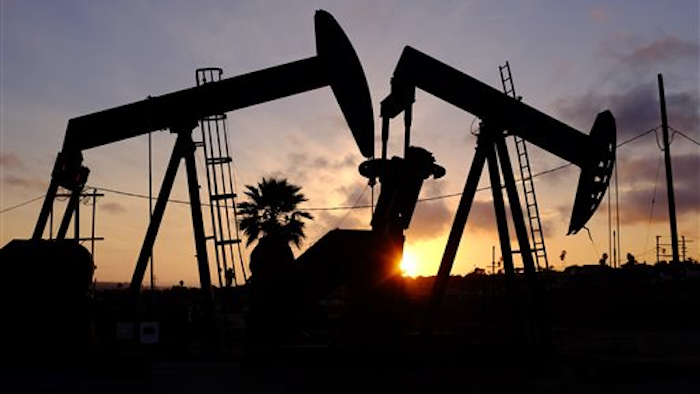 ALBUQUERQUE, N.M. (AP) — Oil and natural gas won't be the only game in town under a new state energy policy unveiled Monday by Republican Gov. Susana Martinez.
"New Mexico is one of the most energy-rich and energy-diverse states in the nation, and we have an excellent opportunity to utilize this position to grow our economy and create more jobs," Martinez said in a statement before detailing elements of the plan during an annual energy summit in southeastern New Mexico.
The plan calls for an all-of-the-above approach, not unlike the prescription being pushed at the federal level. It highlights the need for more infrastructure such as rail and transmission lines, storage options that could spur growth among solar and wind production and job training.
More than a year in the making, the plan stems from several listening sessions around the state. Some 450 people representing industry, state and local governments and other interests participated.
The plan includes dozens of recommendations and for the first time links energy production to the availability of water in arid New Mexico.
David Martin, secretary of the state Energy, Minerals and Natural Resources Department, acknowledged the continued importance of oil and gas development to the state's bottom line but said things are much different now than when New Mexico's last energy policy was adopted in 1991.
Martin cited the frustrations that come along with the cyclical nature of oil and gas and global pressures that are out of the nation's control. Earlier this year, state lawmakers saw the amount of new money available for spending on schools and other government programs slashed by tens of millions of dollars due to drops in the price of oil.
Martin said the hope is that the new policy will help protect against volatility in one market or another.
"Our thought is we're not trying to pick winners or losers. We let the marketplace determine that," he said. "But we try to give everyone enough flexibility that they can do what makes common sense and economic sense, whether that's solar, whether that's wind or natural gas or whatever."
The plan indicates the state will be looking for new markets — from exporting coal and natural gas to other states and possibility across the Mexican border to the feasibility of small nuclear reactors.
Streamlining regulatory processes also is among the recommendations aimed at attracting energy-related economic development opportunities. But the plan cautions that all forms of energy development have effects, and steps need to be taken to protect public health — from groundwater testing to reducing venting and flaring in oil and gas operations.
Aside from the governor, speakers at Monday's summit include state Land Commissioner Aubrey Dunn and T. Boone Pickens, a Texas billionaire who made much of his fortune in oil but has become an advocate for alternative energy.