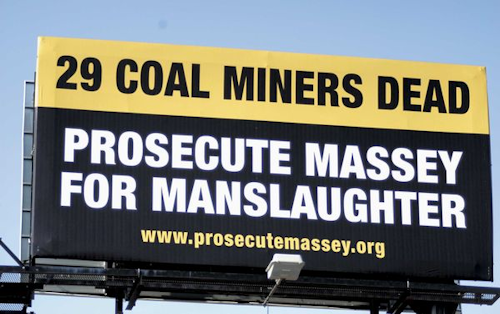 CHARLESTON, W.Va. (AP) — Former Massey Energy CEO Don Blankenship hits the courtroom for a criminal trial Thursday, facing charges that he conspired to break safety laws and lied to financial regulators about safety practices at the site of the deadliest U.S. mine explosion in more than four decades.
If he's convicted, it would be a rare instance where a CEO faces prison time.
In April 2010, an underground explosion ripped through Massey's former Upper Big Branch Mine in Montcoal, West Virginia, killing 29 workers. Blankenship will head to U.S. District Court in Charleston for the start of his jury trial.
A guide to Blankenship's trial:
WHO IS DON BLANKENSHIP? A BULLISH MICROMANAGER OR A HARD-DRIVING CEO?
Generally, it's tough to prosecute high-level corporate executives because they can prove they're detached from business operations on the ground.
With Blankenship, federal prosecutors are highlighting memos and testimony they say show the CEO was intimately involved in how his mines were run, with profit trumping safety. At Upper Big Branch, in particular, he insisted on getting daily production and violation reports — sometimes getting an update on production every 30 minutes, prosecutors wrote. He even reviewed minimal costs, including a $750 contract to check the mine's freeze-proof systems, prosecutors said.
In a February 2008 memo on ventilation standards, Blankenship said: "We'll worry about ventilation or other issues at an appropriate time. Now is not the time."
A year later, Blankenship reminded mine managers in a memo that their "core job is to make money." He said he was "looking to make an example out of somebody and I don't mean embarrassment."
Blankenship's attorneys say the CEO simply wanted to increase coal production while decreasing costs and that he wasn't personally involved in any of the hundreds of mine safety violations cited in his indictment.
Defense attorneys list examples of Massey's investments in safety resources, which "directly undermine the government's specific allegation that Mr. Blankenship schemed to save money - and thereby increase profit - by cutting back on safety expenditures."
For example, they mention Massey's "Kill the Spider" initiative, which aimed to eliminate the root cause of violations rather than "merely knock down webs that could be spun again."
Blankenship also argues that he is being unfairly targeted because he has been a big Republican bankroller, a staunch critic of Democrats and an opponent of unions.
WHAT HAPPENED?
At Upper Big Branch, four investigations that found worn and broken cutting equipment created a spark that ignited accumulations of coal dust and methane gas. Broken and clogged water sprayers then allowed what should have been a minor flare-up to become an inferno.
Blankenship disputes those reports. He believes natural gas in the mine, and not methane gas and excess coal dust, was at the root of the explosion.
However, he isn't on trial for the blast itself.
WHAT'S HE ON TRIAL FOR?
Blankenship is charged with "systematic, intentional and aggressive efforts" to commit safety and health violations and tip off underground employees when federal mine inspectors were on site so they could cover up deficiencies at Upper Big Branch. Blankenship also faces charges of lying to investors and federal financial regulators about Massey's safety practices.
If he's convicted, Blankenship could spend up to three decades in prison.
WHO WILL TESTIFY?
Four former Massey workers have been convicted in the investigation and at least two are expected to take the stand, including ex-Massey manager Christopher Blanchard.
Blanchard, the key government witness named in the indictment, was told by Blankenship to warn Upper Big Branch underground workers ahead of time when mine inspectors were coming, according to the indictment. Blankenship told Blanchard in memos that he hired too many miners focused on safety compliance, calling it "ridiculous" and "literally crazy," according to the indictment.
Former Massey executive David Hughart is expected to testify that he was pressured by Blankenship to produce coal "to the exclusion of safety." He may testify that Blankenship never sent him memos chastising him about health and safety violations.
Hughart was sentenced to 3 1/2 years in prison for conspiring in an illegal scheme to warn miners and other subsidiaries of surprise safety inspections. Hughart implicated Blankenship in the conspiracy during his earlier plea hearing.
Blanchard and Hughart both were sent many of the memos referenced by prosecutors.
It's unclear if Blankenship will testify during trial.