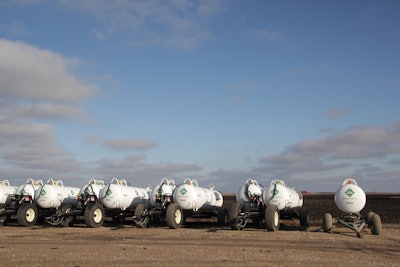 CULBERTSON, Neb. (AP) — The Environmental Protection Agency says a McCook company is being penalized for violating regulations regarding storage of anhydrous ammonia fertilizer.
The EPA said in a Friday news release that it has reached a compliance agreement with Kugler Oil Co., of McCook, over the storage of anhydrous ammonia at the company's facility in Culbertson. The EPA also says Kugler will pay a civil penalty of nearly $102,000 to settle violations of the agency's Risk Management Program.
A company representative didn't immediately return a call Friday from The Associated Press.
The EPA says an inspection of the Culbertson facility in August 2014 found more than 10,000 pounds of anhydrous ammonia, which made the facility subject to program regulations. Inspectors say they found around 620,000 pounds of anhydrous ammonia there.