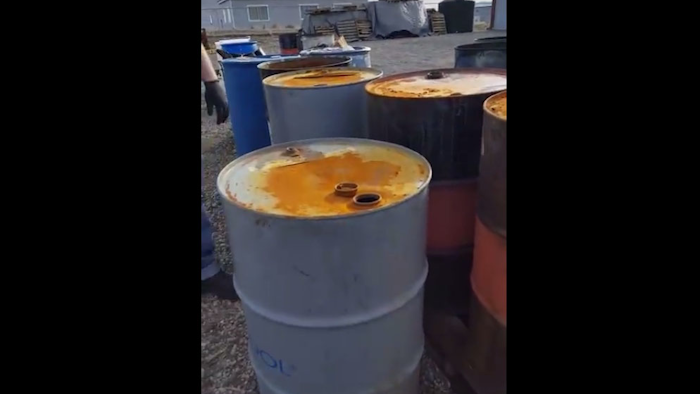 State authorities are investigating a Nevada manufacturer after a video of workers allegedly dumping industrial waste went viral this week.
The video, posted to Reddit and YouTube and titled "Illegal dumping by nv company," shows three men emptying barrels of what they describe as "sludge" and "acid" through a chain-link fence in early March.
A label on one barrel identifies the substance as Hocut 795-H, a machining fluid that is classified as hazardous by federal labor officials.
One of the men in the video alleges that they were ordered to dump the barrels and that the practice had gone on for weeks, but those claims were not substantiated.
"I'm documenting this because I'm not trying to go to prison for this," he said.
Neither the men nor the company were identified in the video, but the Reno Gazette-Journal reported that it was shot at Production Pattern & Foundry, a foundry near Carson City that makes metal parts for manufacturing machinery.
"This has caught everybody by surprise," company spokesman Craig Banko told the paper. "We found out about it this morning."
Banko said that company officials were meeting to address the problem and would not indicate whether the men in the video were current employees. He added that such materials should be dried out and thrown away rather than dumped on the ground.
"That is the proper disposal method, pitching it over a hill is not," Banko told the Gazette-Journal.
David Emme of the Nevada Department of Environmental Protection told the paper that he viewed the video and that the agency "received reports of this from other sources as well."
"We are investigating the incident," Emme said.
Take a look at the video below: