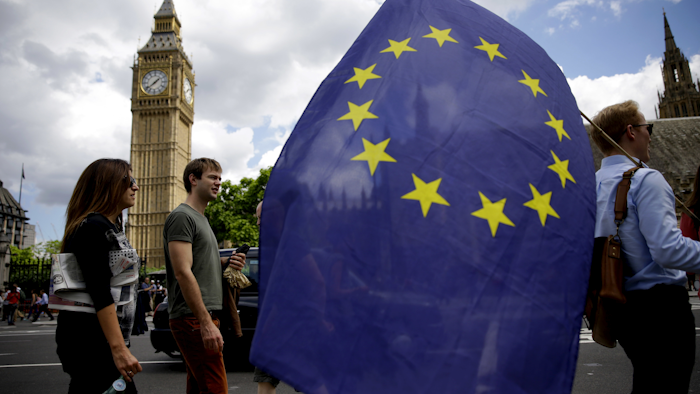 Americans woke up today to the news that Britain has voted to leave the European Union. What does that mean on this side of the pond?
Called Brexit, the historic vote pitted Britain's "freedom for England" crowd, who are anti EU regulation and immigration, against those in favor of the economic stability and mobility that goes along with staying in the union. Ultimately, the "Leave" camp prevailed with 51.9 percent of the vote, according to Reuters.
As many predicted, the news sent a shock to financial markets Friday morning. According to CNN, stock markets around the world plunged upon news of the vote.
The turmoil isn't limited to Wall Street.
Trade
Britain's divorce from the EU will likely take a few years, and it means that the country will have to negotiate new trade deals with its various economic partners.
The UK is America's fifth biggest export market for goods and services. For companies who do business in the UK, this could add uncertainty to vital business relationships.
Recently, President Obama indicated why trade is likely to suffer after Britain leaves.
"Our focus is on working with a big block, the European Union, to get a trade agreement done," he said. "And the UK is going to be in the back of the queue."
Currency
After news of the Brexit vote, the British pound plunged 8 percent to its weakest level in about 30 years. On top of that, the U.S. dollar rose 3 percent against the Euro.
With the dollar rising higher against the pound and the Euro, American goods are getting even more expensive in the UK and EU. This blow is likely to be felt by many American multinational corporations who do business across the Atlantic. Last year, the U.S. exported about $272 billion worth of goods to the EU, and about $56 billion to the UK.  
Even prior to Brexit, the strong dollar was hitting major chemical companies hard. DuPont, for example, reported that sales had slumped overseas because of the surging value of the dollar last year.