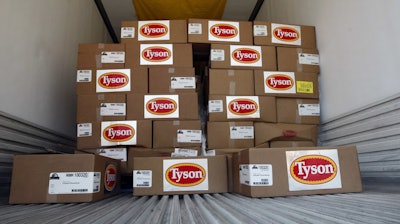 Tyson Foods is reportedly reconsidering the proposed site of a chicken processing plant amid opposition from local residents and elected officials.
The Kansas City Star reports that the Leavenworth County Board of Commissioners on Monday voted to rescind a resolution regarding financing for the Tyson project in Tonganoxie.
The poultry giant and Kansas elected officials early this month touted plans for a $320 million plant in the small town about 30 miles west of Kansas City. The facility was expected to open in 2019 and employ about 1,600 people.
But the announcement also drew skepticism from some in the community who voiced concerns about wage levels at the facility and about odors related to the processing plant, hatchery and feed mill.
Less than two weeks later, the board of commissioners voted 2-1 to halt an effort to put together a package of tax abatements, bonds or other incentives for the company.
At the same meeting, commission member Clyde Graeber stepped down citing health reasons, and later in the day, four members of the five-person Tonganoxie city council said that the project was not the right fit for the area.
Tyson officials told the paper that its options were limited without a third county commissioner, and Doug Ramsey, the company's poultry chief, wrote in a letter that Tyson would "put our plans in your community on hold."
"We still have interest in Leavenworth County, but will prioritize the other locations in Kansas and other states that have expressed support," Ramsey wrote.
Kansas officials said that more than a dozen communities in the state expressed interest in the plant as of Wednesday morning, but they also acknowledged that the controversy was a blow to the state.
"We continue to believe it would be a good project for the area," state Agriculture Secretary Jackie McClaskey told the Star. "It's disappointing to see that perhaps the community and local leadership weren't on the same page on the right ways to grow Tonganoxie and Leavenworth County."