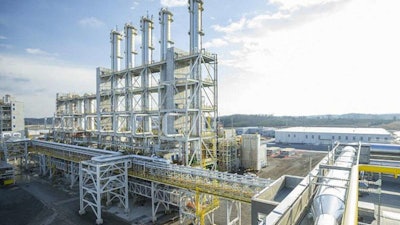 A Wacker Chemie plant in Charleston, Tenn. could be offline for several months as the company completes an investigation into an accident that occurred earlier this month.
On Sept. 7, some kind of mechanical problem triggered a hydrogen leak and subsequent fire at the $2.5 billion polysilicon plant. The incident released a large cloud of hydrochloric acid into the air and injured five plant workers. The company said it was able to contain the chemical release by pouring water on it.
According to Reuters, the plant, which was finished last year, manufacturers about a quarter of Wacker's annual production of polysilicon — a key ingredient to make solar cells.
Immediately after the incident, the company said it would not reopen until the cause of the accident was identified.
The company is reportedly working with an "independent expert team" along with government officials — but it could take "several months" before the plant restarts.
"Production will not start until a thorough inspection is completed and it is certain that the facility is safe," Tobias Brandis, global president of Wacker's polysilicon division, said.
The company reported that it will still be able to fulfill existing orders using its stockpiled inventory and polysilicon produced at two of its German facilities.
Wacker does not expect the lost production to impact its profit forecast because insurers will compensate Wacker for physical damage and the lost production time.