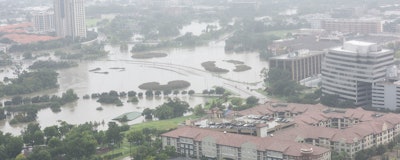 The influence of Hurricane Harvey on the Gulf Coast states will likely be felt for some time.
In particular, the manufacturing industry — which relies heavily on facilities situated in the Southern United States — has been hit hard with some of the most familiar forms of storm fallout: shortages, high prices and crippled infrastructure.
Manufacturing in the Gulf
The plastics and chemicals industries are economic powerhouses in the United States, but they are not geographically diversified. The Gulf Coast is home to about 90 percent of the infrastructure required to manufacture these products.
Naturally, a considerable amount of distribution takes place here as well. As of this writing, much of the rail service that helps these products make their way to the rest of the country from this region are still out of commission and actively being worked on for a full restoration of capacity.
Between the shutdown of transportation services and the crippled capacity of manufacturing itself, experts have predicted that Harvey's influence will be observable in throughput data for August and September.
But what about the more tangible effects on manufacturing? And what about end-users?
The Scale of the Damage and the Root of the Problem
America still heavily depends on crude oil and its many derivatives. Specifically, the manufacturing infrastructure uses two specific crude oil derivatives more frequently than any other: ethylene and propylene. According to experts, 60 percent of the country's ability to manufacture products from these sources is shut down.
Texas alone represents 70 percent of the country's ability to produce ethylene. Louisiana is home to another 20 percent of our ethylene processing power, further imperiling our ability to turn out even basic products.
Says one expert: "You can't make very much without them." Indeed — ethylene and propylene are also important in the production of diesel and conventional gasoline. We saw some isolated gas shortages in parts of Texas and throughout the Gulf, but none of it major. Irma may be a different story.
The Expected Fallout
Those who speak for the chemicals industry indicate that we shouldn't start worrying about real shortage problems until mid-September. That's when we'll start to become conscious of constrictions in the supply chains.
Propylene and ethylene arrive at manufacturing plants in raw form as pellets. Plastic and chemical plants don't usually store extra pellets to ward off shortages during events like this one — hence the worry over possible shortages of critical products associated with crude oil.
You will probably recall that when Hurricane Matthew devastated the Carolinas and Florida in October 2016, only the most critical facilities and buildings remained powered — hospitals, mostly. The bulk of these received support from backup and portable generators. Over one million residents in Florida alone lost power.
Even if the manufacturing plants we're talking about today kept stockpiles of their critical "feedstock" ingredients on hand for such situations, there would still simply be too many other variables to predict a speedy recovery in every case. The rail system would still face its own slowdowns and outages. Electricity availability could still be unpredictable — and you can't run every factory on backup power for very long.
Simply put, the crisscrossing supply chains responsible for moving raw materials and finished products about is too nuanced and complicated for a predictable restoration of capacity after a storm like this. You'll see in a moment that end-consumers aren't likely to be aware of the behind-the-scenes difficulties Harvey has caused, but that doesn't mean this storm didn't send the manufacturing world into a very real panic for a time.
The Bottom Line and the Future
The refining and manufacturing capacity thrown into jeopardy by Hurricane Harvey represents three percent of industrial production capacity for oil and more than 12 percent of industrial production for chemicals.
Experts also indicate they're expecting a good recovery and even a strong finish to the final business quarter of 2017. Consumer spending is expected to take a hit — no surprises there — but all told it looks like manufacturing should recover from Harvey fairly quickly. With Irma's one-two punch, however, the picture grows more complicated still. Some predict a $300 billion price tag for the latter.
There's one more telling takeaway from this story.
For some time, voices in the business community have been seriously looking at the Appalachian region to establish another petrochemicals distribution hub. However, in light of the recent natural disasters as well as the promise of new ones in the future as climate change worsens, those plans are now in question.
It's likely the frequency with which coastal communities and manufacturing hubs witness extreme weather will only continue to raise questions about the storm-readiness of industry in the U.S.
Kayla Matthews is an independent technology writer at Productivity Bytes.