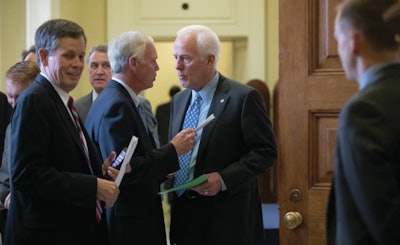 Senate Republicans are zeroing in on a tax outline that would add about $1.5 trillion to the government's $20 trillion debt over 10 years, justifying the spurt of red ink with promises of surging economic growth and a burst of new revenues.
Tennessee Sen. Bob Corker, a member of the chamber's dwindling band of deficit hawks, and Sen. Pat Toomey, R-Pa., one of the chamber's more ardent believers that tax cuts can pay for themselves, said they sealed an agreement on Tuesday.
The $1.5 trillion figure, confirmed by congressional officials familiar with the agreement, would allow deeper cuts to tax rates than would be allowed if Republicans followed through on earlier promises that their coming tax overhaul wouldn't add to the deficit.
The agreement would represent an about-face for Capitol Hill GOP leaders such as Senate Majority Leader Mitch McConnell, R-Ky., and House Speaker Paul Ryan, R-Wis., who for months have promised that the GOP tax overhaul would not add to the budget deficit, currently estimated to hit about $700 billion this year. Deficits over the coming decade were already projected to add $10 trillion to the debt.
The broad-brush tax cut number, if approved by the Senate, would pave the way for the Senate's tax writers to slice corporate and individual tax rates and curb tax breaks in hopes of boosting economic growth to 3 percent or more as promised by President Donald Trump.
Corker and Toomey formally announced an agreement late Tuesday, but didn't provide a specific dollar amount. They called it "a path forward on tax reform" that would allow for tax cuts over 10 years.
While each Republican senator will be able to make their own decision, "I believe our agreement gives the tax-writing committees enough headroom to achieve real tax reform that eliminates loopholes and lowers tax rates for hardworking Americans," Corker said.
Corker had pressed for a lower figure, saying he didn't want the GOP tax plan to cause the debt to spiral further. Now, he's taking a more generous view of so-called dynamic scoring, which takes the economic effects of legislation into account when determining its impact on the government's books.
"We hope this is highly pro-growth. We hope, by the way, that Congress will be firm in closing loopholes," Corker told reporters. "Honestly, that worries me the most about all of this."
The divide between the Senate GOP's deficit hawk and "supply side" wings had taken weeks to resolve. Republicans preached a hard line on the deficit while Barack Obama was president but are taking a more lenient approach now that Trump is occupying the Oval Office, promising a huge budget boost for the military and signaling an openness to working with Democrats to increase domestic agency budgets, too.
Unlike the House, Senate Republicans aren't planning to pair the tax measure with spending cuts.
The work of the budget panel is critical since Republicans need to agree on a budget plan in order to pass follow-up tax legislation without fear of a filibuster by Democrats. But both House and Senate Republicans are divided and the budget debate is months behind schedule.
Earlier Tuesday, Sen. Ron Johnson, R-Wis., one of the budget panel's more ardent advocates of tax cuts, said a 10-year, $1.5 trillion tax cut "ought to be a minimum."
Proponents of strict government spending policies swiftly condemned the agreement, warning of further ballooning of the national debt.
"With the U.S. in such a dangerous fiscal situation, policymakers shouldn't even consider voluntarily adding another $1.5 trillion to our national debt," Michael Peterson, president of the Peter G. Peterson Foundation, said in a statement. "Reaching $20 trillion in debt should be a wake-up call to solve our fiscal challenges, not an invitation to add to the problem."
Many Republicans in Washington promise that cutting corporate and individual rates and ridding the code of inefficient tax breaks, deductions and preferences will boost the economy and cause a burst of new revenue. But the outlines of their tax plan itself remain secret, and it's not clear how successful they will be in cleaning up the loophole-choked tax code.
Congress' impartial scorekeepers have accepted the premise of such dynamic scoring, but past studies by the Joint Tax Committee and Congressional Budget Office have been cautious about how much economic growth and tax revenues would follow tax cuts.
Only Monday, Corker opposed an overwhelmingly popular defense measure that would smash the budget, saying "the inability to get our fiscal house in order is the greatest threat to our country."
The development also means, under the tricky Senate rules governing fast-track debate on the budget and taxes, that some of the provisions in the upcoming tax measure would have to be temporary.