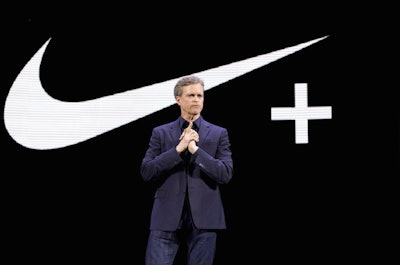 Nike hopes to utilize entirely sustainable contract factories within five years, officials said in a new sustainability report. 
 
The shoe and apparel giant's Fiscal Year 2014/2015 Sustainable Business Report highlighted advances toward numerous environmental and labor goals and outlined new steps it plans to take by fiscal year 2020. 
 
The Oregon company, in particular, plans to work with "fewer, better contract factories" in an effort to overhaul its manufacturing operations. The changes range from increasingly embracing technology to bolstering the workforces in those plants. 
 
Nike aims to minimize its environmental impact throughout its products' lifecycle and said it is evaluating its carbon emissions, material sourcing and water use. The company said more than 70 percent of its products contain recycled material and that it will invest in "a new palette of sustainable materials in a move toward closed-loop products." 
 
"We've set a moonshot challenge to double our business with half the impact," Nike sustainability chief Hannah Jones said in a statement. "It's a bold ambition that's going to take much more than incremental efficiency — it's going to take innovation on a scale we've never seen before." 
The company added that it would focus on increasing diversity in its workforce — particularly women and people of color — and said ongoing pilot programs are attempting to connect its workers to health care, education and finance networks. 
 
Nike also announced a new eight-week paid family leave benefit for its U.S. workers. 
 
In addition to its goal of sourcing all products from contractors "meeting the company's definition of sustainable," the company also plans to reduce its overall environmental footprint by 10 percent by FY 2020. 
 
Other five-year goals included eliminating waste from contract factories without energy recovery and achieving completely renewable energy in its owned or operated facilities. 
 
The company said that, to date, it reduced carbon emissions by 18 percent per unit despite a 52 percent increase in revenue during the previous five years. 
 
Nike officials added that they met goals for water conservation and that the vast majority of footwear and apparel performed well on internal sustainability standards.
"Today our teams are advancing ambitious new business models and partnerships that can scale unprecedented change across our business and the industry," said President and CEO Mark Parker.