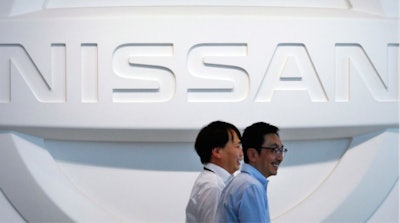 South Korea's Environment Ministry said Monday that it will fine Nissan's South Korean operation for manipulating emissions tests on its sports utility vehicle models, an allegation Nissan is denying.
The ministry said it will fine Nissan Korea Co. 330 million won ($28,000) and recall 814 Qashqai vehicles sold since November. It also plans to file a complaint with prosecutors against the head of Nissan's South Korean operation.
Hong Dong-kon, a director at the ministry, said the SUV's emission reduction device stopped operating when the engine's temperature reaches 35 Celsius (86 Fahrenheit), about 30 minutes after the engine began to work.
"Usually, some cars turn off the emission reduction device when the temperature reaches 50 degrees Celsius, to prevent the engine from overheating. The Qashqai was the only vehicle that turned it off at 35 degrees," Hong said in a press conference.
When the emission reduction device stopped working, the Nissan vehicle's level of emissions was about the same or slightly higher than that of diesel cars of Volkswagen, which was fined for cheating on emissions tests.
"All auto experts expressed the opinion that it was clearly a manipulation of the emissions reduction device," he said.
Nissan Motor Co. in Japan denied any wrongdoing. It said South Korean authorities' findings differed from those of the European Union, which concluded that Nissan vehicles used no illegal devices. The Japanese company said it will assess the situation and continue to work with South Korean authorities.
"Nissan has not and does not employ illegal defeat or cheat devices in any of the cars that we make," it said in a statement.
The South Korean government investigated 20 diesel car models sold in South Korea following the scandal over Volkswagen's admission that it had equipped cars with software that could limit emissions when cars were tested by regulators.