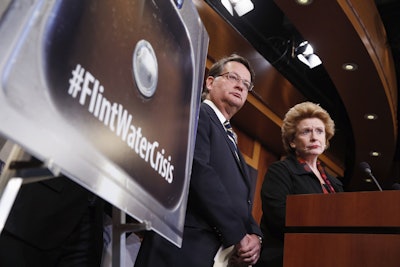 The Michigan House approved $30 million on Thursday to help pay Flint residents' water bills in the aftermath of the city's lead-contamination crisis.
The lawmakers unanimously OK'd the measure, which now goes to the Senate, which is expected to approve it and send it to Gov. Rick Snyder for final approval.
Residents would have about 65 percent of the drinkable water portion of their bills paid by the state. Residential customers would still have to pay for water used to flush toilets or do laundry.
The city's supply was switched from Detroit water to the Flint River in 2014. For 18 months, Flint used the Flint River for drinking water without proper corrosion control, which caused lead to leach from the pipes into the water supply. If consumed, lead can cause developmental delays and learning disabilities in children.
Gov. Rick Snyder said the assistance would provide a credit for the estimated portion of residential customers' utility bills for water that has been or will be used for drinking, cooking or bathing from 2014 until this spring, when officials hope the water is declared safe to drink again without a filter.
Some Democrats say the state should pay for more than 65 percent of residents' bills. In earlier committee meetings and in the Senate, Democrats offered amendments to double the figure to $60 million. But those amendments were rejected by the Republican-controlled Legislature.
Snyder also has said he's hopeful that the federal government will expand Medicaid coverage to people under 21 and pregnant women who have been exposed to Flint's water. Snyder has said about 15,000 more Flint residents would benefit if the government approves the request.
Health and Human Services Secretary Sylvia Burwell is set to visit Flint later in the day. Burwell plans to tour a health center and meet with local leaders.