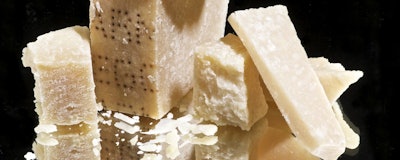 According to the Food and Drug Administration, Parmesan fraud has become a serious problem for American consumers.
The FDA's official definition for Parmesan cheese dates back to the 1950s and essentially states that Parmesan should be Parmesan — meaning not substituting in less expensive cheeses (like Swiss, mozzarella or cheddar) or fillers like wood pulp.
First reported by Bloomberg on Tuesday, the FDA is now in the middle of a criminal case against Pennsylvania-based Castle Cheese for "doctoring its 100 percent real Parmesan with cut-rate substitutes and such fillers as wood pulp and distributing it to some of the country's biggest grocery chains."
The FDA began investigating Castle Cheese in November 2012 after receiving a tip. After finding evidence of Castle's "doctored" Parmesan, the FDA sent the cheese distributor a warning letter citing its violations.
The FDA says that Castle has been distributing cheese labeled as "100 percent grated Parmesan" when it contained "no Parmesan cheese" for 30 years.
Additionally, a report from Grub Street said that a Dairy Farmers of America subsidiary claimed that its tests showed that only one-third of labels are accurate.
Bloomberg even ran independent lab tests on brands claiming to be "100 percent" grated Parmesan.
The results found the following:
"Essential Everyday 100% Grated Parmesan Cheese, from Jewel-Osco, was 8.8 percent cellulose, while Wal-Mart Stores Inc.'s Great Value 100% Grated Parmesan Cheese registered 7.8 percent, according to test results. Whole Foods 365 brand didn't list cellulose as an ingredient on the label, but still tested at 0.3 percent. Kraft had 3.8 percent."
Although cheese technologist Dean Sommer at the Center for Dairy Research in Wisconsin says that cellulose is a safe additive, the acceptable level is between 2 and 4 percent.
Bloomberg also reported that "'no Parmesan cheese was used to manufacture' the Market Pantry brand 100% grated Parmesan Cheese, sold at Target Corp. stores, and Always Save Grated Parmesan Cheese and Best Choice 100% Grated Parmesan Cheese, sold by Associated Wholesale Grocers Inc., which along with its subsidiaries supplies 3,400 retail stores in 30 states."
Bloomberg says that Castle Cheese president Michelle Myrter is expected to plead guilty this month to criminal charges. If found guilty, she could face up to a year in prison and a fine of $100,000.
Do you think the FDA is taking appropriate action against Castle Cheese? Could a criminal case be the spark needed to reinforce proper food labeling regulations?
Comment below or tweet me @MNetAbbey.