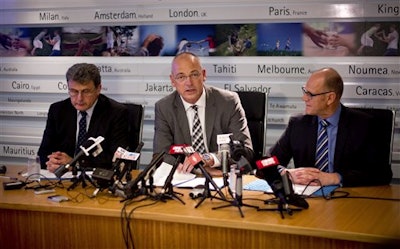 WELLINGTON, New Zealand (AP) -- A senior executive at New Zealand dairy giant Fonterra resigned Wednesday in the aftermath of a botulism scare.
Fonterra said Gary Romano had already left the company. In his role as managing director of New Zealand Milk Products, Romano oversaw the tainted product line that sparked a global recall.
Fonterra announced this month that hundreds of tons of infant formula could be tainted after tests found bacteria in whey protein concentrate that can cause botulism. Fonterra said last week that a recall of the products had been successful, with no reported cases of people contracting the disease.
Romano was part of a team of managers that reported directly to Fonterra Chief Executive Theo Spierings. Romano fronted questions about the scare in New Zealand last week while Spierings headed to China to do damage control in a crucial market.
Fonterra, the world's largest dairy exporter, declined to elaborate Wednesday on Romano's reasons for leaving. The company said Spierings would, for now, take over Romano's responsibilities.
New Zealand is launching several probes into the contamination. Fonterra will conduct its own internal investigation, a group of government officials will determine if the company should face any charges, and politicians plan to launch their own inquiry.
New Zealand relies on dairy exports to power its economy and the recall has dented the reputation of its products in key markets including China.
Several countries have announced halts on imports of some New Zealand dairy products.