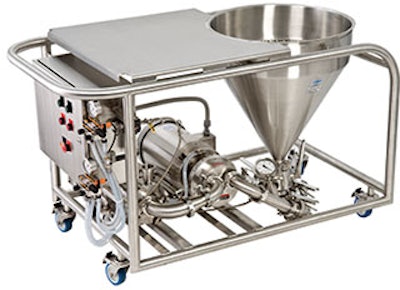 Tightening food safety standards and regulations are driving equipment innovations that enhance sanitation while speeding changeovers, boosting productivity and reducing downtime.
To succeed in the competitive dairy industry, managers from the CEO to the plant floor must focus on several, often overlapping priorities. Sourcing and specification of everything from ingredients, materials and machinery must be in line with corporate goals, but the top priority is always food safety.
Fortunately, complying with food safety rules can also improve dairy plant operating efficiency, productivity and ultimately, profitability. Dairy industry professionals will get a first-hand look at these innovations at PACK EXPO Las Vegas 2013 from September 23–25 at the Las Vegas, Convention Center in Las Vegas, Nev. 
Many factors go into packaging and processing machine designs, and while processes vary by product — fluid milk, butter, margarine, cheese, ice cream, yogurt and more — there's a "common need for sanitary equipment that can be properly cleaned," says Bob Wells, OEM manager for Fristam Pumps USA (Booth #7119). He says his company meets and exceeds food safety norms and standards, from the use of food-grade stainless steel or Hastelloy for product-contact components to the design of sanitary mechanical seals using tungsten carbide, carbon or carbide.
Sanitary equipment designs share many of the same features, from sanitary surfaces of stainless or other food-grade materials, to machine housings and air cylinders. Common design traits also include surfaces placed at an angle, instead of horizontally, and reducing or eliminating the occurrence of protruding bolts and flanges, both of which reduce the accumulation of dairy soil. Another feature is frame sections that swing up or open can make cleaning easier by eliminating the need for tools. The features also reduce the risk of losing parts on the production floor.
CIP improvements aid processing
Clean-in-place (CIP) systems, especially when automated, speed sanitation processes by controlling the flow of cleaning solutions. As with all proper cleaning and maintenance, good CIP can increase productivity, reduce manual labor and boost long-term equipment reliability.
This can be seen in Fristam's latest FKL positive displacement pump, which can be cleaned without removing the cover or rotors before running a CIP cycle.
"This capability adds to product safety because the pump does not have to be partially disassembled for cleaning," says Wells. "Each time you have to open a pump, the more exposure there is to external contamination of your product line. Eliminating that step further ensures product integrity." The philosophy also guides the company's centrifugal pumps, mixers and blenders.
Likewise, the design of the DynaShear inline high-speed disperser from Admix (Booth #8122) eliminates bushings, shims and wear sleeves in a 3-A compliant package. The unit effectively reduces undispersed solids and, in turn, the number of CIP cycles due to plate heat exchanger burn-on.
Admix Dairy and Beverage Market Manager Rick Earley calls the company's Fastfeed 3-A compliant inline powder induction and dispersion unit a sanitation "game changer." Fastfeed eliminates the use of elevated platforms and open-top tanks for product loading in favor of floor-level loading, which reduces the risk of foreign objects and dairy soil falling into the mix.
Another Admix disperser, the Rotosolver in-tank high-speed unit, solves a separate major sanitary issue for dairies that need high-speed mixing and wetting of powders. This technology benefits from its top-mount design — unlike the more general-purpose mixers with impellers mounted on the bottom, the Rotosolver has earned the 3-A logo design that "provides for visual verification of cleaning," says Earley. "With no wear parts in the product zone, there is no seal to maintain." Easy access and cleaning speeds changeover and reduces maintenance downtime, and the design, with its lower horsepower ratings, also provides up to 70 percent energy savings.
Packaging safety enhances efficiency
"There is a tremendous amount of change occurring in the dairy industry right now," says Dale Andersen, president and CEO of Delkor Systems (Booth #3939). Delkor is now readying additional systems for sanitary dairy processing.
For yogurt and cultured product producers, Delkor's Model 650 high-speed packer meets the demand for sectioned, or "side-car," Greek yogurt containers with pad-shrink, retail ready trays and full corrugated case options that accommodate safe, rapid changeover. In packaging ice cream sandwiches, a new carton forming, loading and closing cell uses food-grade robotics and "offers great flexibility as well as high speed coupled with proper sanitary design for the dairy environment," Andersen says.
Additionally, for fluid milk and other juices and beverages, Delkor offers a new robotic loader that permits changeovers to take place in under two-minutes thanks to the need for minimal tools and easy access. Processed cheese loaf operations will also benefit from a new integrated Trayfecta servo carton former and L1-lidder, which provide the carton base and high graphic paperboard carton lid with changeovers taking fewer than five minutes.
Manufacturers in the dairy sector can learn more about the challenges and solutions surrounding food safety regulations and connect with supplier partners that can help them ensure compliance at PACK EXPO Las Vegas 2013.Registration is open at www.packexpo.com. Admission to the show floor is $30 through Sept. 9 and $60 thereafter.
PMMI, the Association for Packaging and Processing Technologies, is a trade association representing over 600 packaging and processing supply chain companies that provide a full range of packaging and processing machinery, materials, components and containers. PMMI actively brings buyers and sellers together through programs and events such as The PACK EXPO family of trade shows, packexpo.com, PMT Magazine, PACK EXPO Show Daily, networking events and educational programs. PMMI organizes the PACK EXPO trade shows: PACK EXPO International, PACK EXPO Las Vegas, PACK EXPO East, EXPO PACK Mexico and EXPO PACK Guadalajara, connecting participants in the packaging and processing supply chain with their customers around the world. Coming Up: PACK EXPO Las Vegas 2013, Sept. 23–25, 2013 (Las Vegas Convention Center); PACK EXPO International 2014, Nov. 2-5, 2014 (McCormick Place, Chicago); Pharma EXPO, co-located with PACK EXPO International 2014, presented jointly with the International Society for Pharmaceutical Engineering (ISPE); EXPO PACK México 2014; PACK EXPO East, debuting Feb. 2–4, 2015 (Pennsylvania Convention Center, Philadelphia); EXPO PACK Guadalajara 2015, March 18-20, 2015(Guadalajara, Jalisco, Mexico). Learn more about PMMI and the PACK EXPO trade shows at PMMI.org and Packexpo.com.