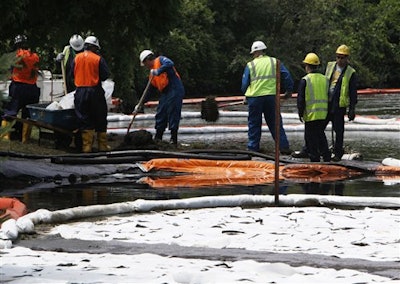 http://www.manufacturing.net/sites/manufacturing.net/files/ntsb-1.jpg
National Transportation Safety Board (NTSB) Investigator-In-Charge Matt Nicholson attends a NTSB meeting in Washington Tuesday, July 10, 2012, to determine a cause of a pipeline rupture in 2010 that dumped more than 800,000 gallons of oil into a southwestern Michigan river. (AP Photo/Manuel Balce Ceneta)
DETROIT (AP) — A Canadian company's failure to deal adequately with cracks in an oil pipeline and its slow response to a 2010 rupture in southwestern Michigan likely caused the most expensive onshore oil spill in U.S. history, the National Transportation Safety Board said Tuesday.
Enbridge Inc. knew in 2005 that its pipeline near Marshall, a city 95 miles west of Detroit, was cracked and corroded, but it didn't perform excavations that ultimately might have prevented the rupture, NTSB investigators told the five-member board at a meeting in Washington.
Investigators also faulted Enbridge control center personnel for twice pumping more oil into the line after the spill began and failing to discover what had happened for more than 17 hours, when an employee of a natural gas company notified them.
The board voted to approve the findings after testimony concluded.
The spill dumped about 843,000 gallons of heavy crude into the Kalamazoo River and a tributary creek, fouling more than 35 miles of waterways and wetlands.
Enbridge's cleanup costs have exceeded $800 million, which NTSB Chairman Deborah Hersman said was more than five times greater than the next-costliest onshore spill.
In this July 30, 2010 file photo, crews clean up oil, from a ruptured pipeline, owned by Enbridge Inc, near booms and absorbent materials where Talmadge Creek meets the Kalamazoo River as in Marshall Township, Mich. (AP Photo/Paul Sancya, File)
"This accident was the result of multiple mistakes and missteps by Enbridge," Hersman said. "But there is also regulatory culpability. Delegating too much authority to the regulated to assess their own system risks and correct them is tantamount to the fox guarding the henhouse. Regulators need regulations and practices with teeth — and the resources to enable them to take corrective action before a spill, not just after."
A message seeking comment was left with Enbridge.
The U.S. Department of Transportation's Pipeline and Hazardous Materials Safety Administration last week proposed a record $3.7 million civil penalty against Enbridge.