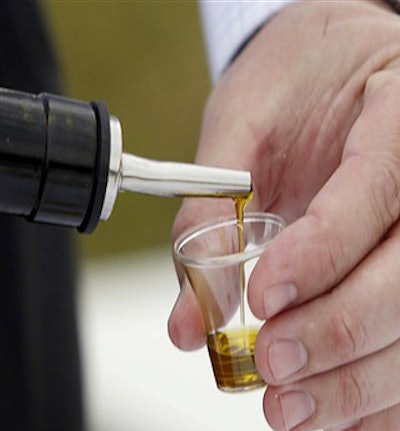 SAVANNAH, Ga. (AP) -- Jason Shaw says his first fall harvest yielded fruit for no more than 500 bottles, just enough to sell at select tastings and to share with restaurant chefs in hopes of priming their palates for more.
Friends suggested Shaw sell his limited batch for $100 a bottle, like a fine wine. After all, it's been more than a century since anyone could buy olive oil from Georgia. It's a farm commodity that sounds downright foreign in a state known for peaches and peanuts, and that sense of novelty is getting Shaw plenty of attention.
"We're going to run out of oil very soon," said Shaw, who settled on a more modest price of $25. "We've still got to figure out who we're going to give this Georgia oil to without hurting anybody's feelings. It's a good problem to have."
It's been two years since Shaw, an insurance agent and freshman state lawmaker, launched an olive oil business in southwest Georgia with his banker brother and their cousin, the farmer of the family. This fall they used a hot-rodded blueberry picker to mechanically harvest their first 20 acres in Lakeland, near the Florida state line. Experts say it's the first commercial olive crop grown in Georgia since the late 1800s.
Shaw and his family partners, who already have more than $250,000 invested in the enterprise, are betting they'll see strong profits from domestically produced extra virgin olive oil in a few years once their trees bear more fruit.
"Certainly everyone's excited about it," said Gerard Krewer, a fruit specialist who worked 29 years for the University of Georgia's Cooperative Extension Service before retiring last year. "But it will take some time to see how it all plays out."
The U.S. produces less than 1/10th of 1 percent of the world's olive oil, and what little domestic oil there is comes from groves far away in California, Texas and Arizona. By contrast, only three countries -- Spain, Italy and Greece -- produce nearly three-fourths of the worldwide supply of olive oil.
Georgia may be best known for its peaches, peanuts and sweet Vidalia onions. But olives were long ago a homegrown commodity along the state's 100-mile coast.
They were introduced by Spanish settlers who planted olive trees at missions established in southeast Georgia in the 1590s. British colonists led by Gen. James Edward Oglethorpe discovered the Spanish olive trees after their arrival in 1773. Plantations on St. Simons, Sapelo and Cumberland Islands grew olives for oil well into the 1800s until the Civil War, natural disasters and turnover in land ownership stamped out the crop.
In addition, families of wealthy industrialists started buying up old plantations on Georgia's barrier islands in the late 19th century. The lands were used primarily as secluded winter getaways rather than for farming.
Shaw said the seeds for an olive comeback in the South were planted with him in the mid-1990s, when he was a UGA student studying abroad in Italy.
"If you spend a few months in Europe you're going to develop a taste for olive oil," he said. "So I've always had it in the back of my head: Why can't we grow olives and produce olive oil here?"
The Shaw family's initial batch of oil, made from arbequina olives, has been described by those who have tasted it as mild, sweet and soft. And it's won over a staunch ally in Sean Brock, a South Carolina chef whose allegiance to homegrown Southern cuisine has led to some extreme measures in his kitchen.
At Husk, Brock's restaurant in Charleston, he's made it a hardline rule that the ingredients used in all dishes must be grown or produced in the South.
"Olive oil was our biggest challenge," Brock said.
He read about the Shaws' olive grove online and contacted them. That led to Brock buying more than 20 olive trees from the Georgia growers and planting them outside his restaurant. After the Shaws' first harvest was sent off to be pressed into olive oil in Texas, they made sure to send Brock a few gallons to try.
Brock said he's used some of the Georgia olive oil as a standout ingredient at his restaurant, pairing healthy drizzles with fresh sliced tomatoes or woodfired vegetables. In late October, he took a big sampling on the road to Oxford, Miss., to share with other chefs and food writers at a symposium of the Southern Foodways Alliance.
After giving a talk on the history of Southern olives, Brock said, he poured the olive oil into plastic shot glasses that were passed to about 300 giddy attendees. He said the freshness of the oil gave it a richness that imported olive oil, because of its age, doesn't have.
"What I loved about it was it was so fresh, it was just so grassy and herbaceous," Brock said. "If you're getting olive oil that's two or three days old from the Shaws, it's something we've never experienced as American chefs. It's a whole new frontier."
Krewer, the retired crop specialist, said it will take several years to see how well olive trees hold up to winters in south Georgia, which tend to be colder than in the southwest, as well as the more humid summers that can help fungus and crop diseases take hold.
Meanwhile, Shaw said the small olive business is steadily growing. His family now owns or manages 80 acres of olive groves -- four times what they harvested this year. He predicts the larger acreage, plus more mature trees, could produce 10 times more fruit for olive oil by next fall and up to 30 times the size of this year's harvest within four years.
"I'm trying to cure our dependence on foreign oil," Shaw said, laughing. "The long-term goal is to create a product that can compete with anything else on the market."