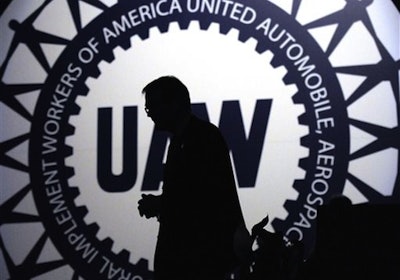 The ongoing push to keep the UAW and labor unions out of foreign automobile manufacturing plants in the South continues. Mercedes got a slap on the wrist for impeding union literature in its Alabama plant while Tennessee Gov. Bill Haslam continues to fight against UAW representation at Volkswagen's only U.S.-based factory. With the auto industry being so heavily entrenched with labor unions, is the fight to keep them out futile?
In a recent AP story, it was reported that The National Labor Relations Board upheld a ruling that Mercedes violated federal labor laws by stopping UAW union supporters from handing out literature inside its Alabama plant.
As a result, Mercedes must update its employee handbook to say that workers are allowed to discuss union issues during non-work times and that they can solicit their colleagues in mixed-use areas like team centers and atriums. The factory must also post notices to acknowledge the violation and to reaffirm that management won't "interfere with, restrain, or coerce" workers seeking to unionize the plant.
"We clearly feel there are certain places in the plant that are work places, and not places where we would want materials like that being distributed, regardless of whether that's for or against the union," said Jason Hoff, the plant's president and CEO, back in September. "It has nothing really to do with being against or for the UAW or any other union."
Mercedes parent Daimler has long declared that it is neutral on union questions.
Volkswagen
Earlier this year, there was a lot of back and forth between the UAW and politicians in Tennessee, killing a union initiative at Volkswagen's Chattanooga plant. There were empty promises of plant expansion and appeals, but while the UAW took a blow earlier this year, it appears they've turned things around, bringing the debate back to the forefront.
On Monday, it was reported that the UAW now qualify for the top tier of a new labor policy at the Volkswagen plant, giving the union its first formal role within a foreign-owned auto plant in the South.
Volkswagen said that an independent auditor had verified that the UAW's Local 42 had signed up at least 45 percent of workers at the Chattanooga plant. That will entitle the union to biweekly discussions with managers and to frequent access to the plant for meetings, notices and other organizing activity.

While the policy doesn't address collective bargaining, UAW Secretary-Treasurer Gary Casteel called it a "starting point" for achieving that goal at the plant where he said the union already represents more than half the workers.
In turn, Tennessee's Gov. Haslam spoke out by questioning the process by which the union qualified under a new labor policy at the Volkswagen plant in Tennessee.
"We want the company to be consistent in what they've told us they are going to do," Haslam said. "They've always said that if they have a vote that has ramifications for the company it would be the way we do votes in America, which is secret ballots."
German Work Ethic
Whether you're for or against labor unions in the U.S., German industry has been embracing them for a very long time through both trade unions and works councils. That could be why Mercedes has remained neutral to union efforts in Alabama and why Volkswagen hasn't put itself in front of the debate. Maybe the problem here can be categorized as cultural conflict.
The UAW has been ramping up its efforts at the Mercedes and Volkswagen's plants for months now. Under German law, half of both companies' boards are made up of worker representatives who are putting pressure on management because the U.S. plants stand alone among either company's global factories without formal labor representation.
According to report earlier this year, labor interests who make up half of the supervisory board at Volkswagen's headquarters in Wolfsburg, Germany, have questioned why the Chattanooga facility is the only major plant without formal worker representation. The company wants to create a German-style "works council" in which both blue collar and salaried employees have a say over working conditions. But Volkswagen says U.S. law won't permit the creation of a works council without the involvement of an independent union.
What Do You Think?
If a company isn't stopping unionization, why are others trying to fight it for the company? Do you think politicians are overreacting on the matter? With an industry so entrenched with unions, does a lack of a union hurt or help these foreign automakers? Tell us what you think by leaving your comments below.
---
To read more manufacturing and technology news by Jon Minnick, sign up for our newsletter. You can also follow Manufacturing Business Technology on Twitter @MBTwebsite.