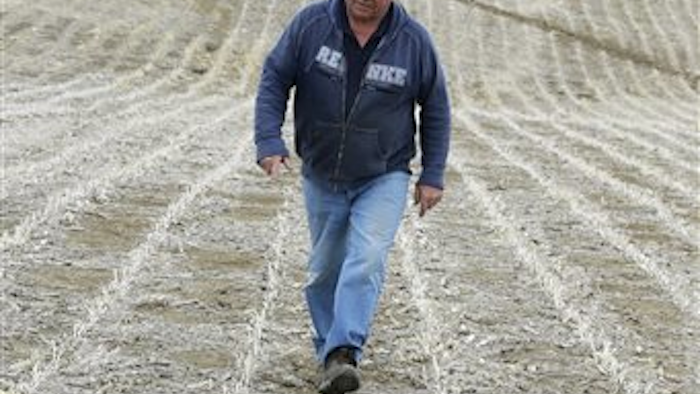 The "fissured landscape" of the shale gas industry is drawing regulators' eyes as they seek to enforce labor laws, U.S. Department of Labor officials said.
On Tuesday, the department announced an agreement with roughly 145 oil and gas employers to pay a combined $4.5 million in back wages to 5,300 workers tapping into the Marcellus Shale. The money will go to workers, not the U.S. Treasury.
The industry's structure, with relatively few significant entities at the top and hundreds or thousands of vendors beneath them, drew regulators' focus, Wilkes-Barre district director Alfonso Gristina said.
"The further we go down in that business structure, for a variety of reasons, we find more violations," he said.
Labor officials in Wilkes-Barre and Pittsburgh began investigating in 2012. Their probe netted some top service firms with operations all over the world, including giants Schlumberger and Baker Hughes.
They also targeted smaller firms, some local, such as Roadwave LLC, a Blakely-based water trucking business, Pittston Twp.-based Linde Corp., which builds pipelines, among other services, and water trucking and traffic control business Energy Construction Management of Williamsport.
All did not return phone calls or declined to comment.
Cabot Oil & Gas Corp. was the only exploration and production company that owed significant overtime, according to a list of violators the Labor department shared. The company has major gas operations in Susquehanna County.
Cabot owed 140 employees a total of $18,547.60. Its subsidiary GasSearch Drilling Services Corp. owed $46,225 to 169 workers.
Cabot spokesman George Stark said the company worked with the labor department to fully understand the regulations and factors to determine compliance.
"We have been in full compliance with these regulations for more than a year," he said.
Other exploration and production companies on the list owed less: Exco Resources owed $3,934, Stone Energy Corp. owed $2,696, and Rex Energy Corp. owed $162.
Most companies did not mean to deprive workers of overtime wages owed to them under the federal Fair Labor Standards Act, Mr. Gristina said.
The department's announcement "would lead one to conclude that the noncompliance is exclusively related to intentional disregard for the rules to make a profit," he said. "That would be unfair to a lot of firms that we investigated that simply did not know the proper computation for overtime."
For example, if an employee's wages are $10 per hour, an employer owes the worker time-and-a-half, or $15, for the 41st hour of work in a week and beyond, he explained.
But if the employer offers monetary bonuses or incentives, that additional money needs to be factored into the overtime calculation, he said.
The "fissured" structure of the shale gas industry creates an environment that makes such noncompliance more likely, he said.
Marcellus Shale Coalition spokesman Travis Windle did not agree with this description of the industry.
"Creating and supporting good-paying jobs across a diverse and growing supply chain, made up overwhelmingly of small- and medium-sized locally-based businesses, has been and continues to be a top industry priority," he said in an email, adding that the industry is "deeply committed to compliance" with all laws and regulations, including labor laws.
Mr. Windle pointed out that wages for oil and gas core and ancillary industries are well above the average for all industries in Pennsylvania—$49,586 higher for core and $15,429 higher for ancillary, according to the latest data from the state Department of Labor & Industry.
Though it evokes images of shattered shale underground, that "fissured" phrase comes from the research of David Weil, Ph.D., whose studies in supply-chain restructuring have significantly influenced the department's work, Mr. Gristina said. Dr. Weil became administrator of the labor department's wage and hour division in May.
While at Harvard University, Dr. Weil wrote a book titled, "The Fissured Workplace," about the effect of big businesses outsourcing work to small companies.
"When you shed employment and you say, 'You're no longer my janitor, but I am hiring a janitorial service provider,'... so I am paying a price for a service, rather than a wage for a labor activity, that whole fairness dynamic changes," he said in interview posted on YouTube.
In Tuesday's news release, Dr. Weil called shale gas "an industry ripe for noncompliance." The Department of Labor targeted it to most efficiently use taxpayer money, Mr. Gristina said.
The Fair Labor Standards Act applies to more than 7 million firms in the U.S., he said, with only about 1,000 wage hour investigators to police them. That's why former administrator Nancy Leppink applied Dr. Weil's research and "really substantially changed the way we do business at this agency," he said.
Now the agency goes after industries that have this structure, he said, offering hotels as another example. Major hotel chains usually hire contractors for housekeeping, landscaping and restaurant management instead of keeping the work in-house.
Ultimately, the Department of Labor hopes to catch the attention of the largest companies at the top of the shale gas chain and persuade them to encourage compliance among their contractors, Mr. Gristina said.