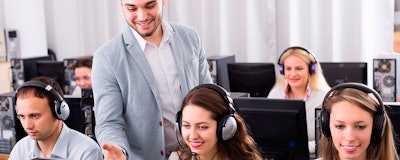 Inside sales is the new black. Companies across all economic sectors are adopting and integrating inside sales models in record numbers. The scalability, measurability, and predictability of inside sales has made it the new preferred sales channel for companies who have a mandate from stakeholders to grow sales and revenue quickly and within budget constraints.
The shift to the inside sales model has caused demand for talent to outstrip supply. Attracting, hiring and retaining people is harder than ever before as companies compete for the same, small, limited pool of revenue-generating talent. It's an insidious problem that can thwart inside sales initiatives and diminish a company's ability to hit sales and revenue goals.
The challenge is how to attract, hire, and keep the best inside sales talent before competing companies hire them first during the biggest hiring frenzy in history.
A Closer Look at the Problem
An article in Entrepreneur magazine warns: "If your company has recently tried to recruit inside sales talent, then you're probably already keenly aware that competition for all-star reps has never been fiercer.
"This is the result of a veritable explosion in inside sales hiring over recent years, motivated by data showing that inside (or remote) sales teams offer exponential returns compared with traditional outside sales teams."
Today, the best inside sales people are highly sought after, with demand for their services far outstripping the supply.
The Harvard Business Review reports that over the past two years, 46 percent of sales VPs surveyed said that they are shifting from a field sales model to an inside sales model.
How to Attract, Hire and Retain Inside Sales Talent
Knowing how to compete for top talent in this frenzied hiring environment can help ensure that you get the best possible hire. Here are seven proven tactics that can help you get and keep high-performing inside sales professionals.
No. 1 — Run many ads, in many places - all at the same time
To attract talent, run ads in as many venues as possible — all at once. Use different job titles to cast a wide net across multiple recruiting ad platforms: e.g., inside sales, business development, software sales — inside (if you sell software; if not, substitute your product).
No. 2 — Brag a bit in your recruiting ads
Make your recruiting ads appealing. Showcase your organization as a great place to work. Keep in mind that inside sales is utilitarian grunt work. Do you offer ping pong tables, paid time off, pizza parties, summer hours, bring your dog to work, child care, flexible hours, the opportunity to work one or two days a week from home, and social events for the inside sales team such as game night or karaoke after work? Spice up your ads.
Articulate the unique aspects of your company, your competitive advantages in the marketplace, and your corporate culture. For instance, a solar energy company might say: "We are out to free America from dependence on fossil fuel, provide affordable energy for everyone, and we invite you to join us on our mission."
No. 3 — Make it easy to apply for your inside sales positions
How easy is it to apply for a job at your company? The key is to get candidates into your recruiting process quickly before another employer grabs them. The more hoops you make candidates jump through to apply the worse your hiring results will be.
Do you scare candidates off by asking them to fill out a long psychological test before they know much about the role? We firmly advise against this and any other multi-step application process.
If your initial application process is tedious, rest assured candidates are abandoning your career page and moving on to the next job opening. If your company can't implement a fast, easy way to apply on your existing website or careers page, consider using a simple one-page microsite specifically for inside sales applicants. (We did this for a media client recently, and it worked extremely well.) Secure a domain name like yourcompanyinsidesalesjobs.com and build yourself a one-page recruiting microsite. This is a fast, easy, and inexpensive process. Consider featuring a company video on your microsite that has employee testimonials. A word of caution about these ideas. If you are going to need all kinds of approvals from legal, HR, marketing, IT, and a host of others, forget it. It will take too long to execute (unless there is buy-in or a mandate from the C-suite to get this done).
No. 4 — Offer competitive or above the market salaries, commissions, and benefits
If you offer an above market comp plan, trumpet that fact. Your company has to pay at or above market compensation to be viable for talent. The adage you get what you pay for is especially true when hiring inside sales teams. If you need to know what the compensation rates are in your geographic region, go to payscale.com, type in inside sales, and then your city or state. You will get an accurate picture of what you need to pay to be competitive in your geographic region. There has to be a rationale and basis for what you are offering. Markets drive compensation rates. Some sectors will command higher pay rates, for example, software. Look for an online tool that will show you by job title, industry and geography to see if you are paying at, above or below market value for talent. Ignore this compensation data at your peril. Trying to save money on inside sales compensation can cost you in other ways: high turnover, rehiring costs, retraining and lost sales opportunities.
A word of caution. The worn out, overused and abused recruiting/hiring tactic of over promising a candidate that "You can make x amount working here" won't work because they are entertaining multiple, simultaneous offers and they will ultimately accept the best deal.
No. 5 — Interview fast, hire fast
Inside sales candidates who apply for jobs are getting phone calls and emails within minutes from recruiters/HR departments to schedule an interview. If you wait to contact applicants, you will lose out to companies competing for the same person you are. This is an absolute certainty. Bring people in as quickly as you can. Candidates are not waiting around for anyone.
If there are long gaps between the time you first contact a candidate and when you make an offer and get them started, you will lose the candidate to the market. (We see this frequently happen to companies.)
In short, it is important to keep your recruitment process in sync with the market conditions. Keep it tight by removing and shortening gaps between each step.
If you are hiring large numbers of people, consider hosting group interviews. (One company we know of in Chicago is hiring 282 inside sales reps.)
Here are some ideas on how to do it:
Overbook by a 30 percent multiplier. If you need 20 people to show up, book 26. Our experience indicates that group interviews average a 30 percent no-show rate.
Book weekly interviews if you have ongoing hiring needs. Bring in as many people as quickly as you can, ideally within the same week that they applied or early the following week (like a Monday or a Tuesday) and at a convenient time. The longer you wait to bring in candidates the higher the no-show rate will be. (They will have already taken another job.)
The group interview should not exceed 45 minutes. Have a question and answer session at the end. Then move potential hires to one-on-one interviews with individual hiring managers right then and there. Hire on the spot if you can. Reason: if you ask candidates to come back another day, or jump through hoops, you will lose a certain percentage.
You may have to calibrate your recruiting and hiring process so that HR, talent acquisition, hiring managers, and all others involved are synchronized. We see disconnects all the time that cost companies time, energy, money and talent.
No. 6 — Retain your best performers and reduce costly turnover
Paying your inside sales team competitive salaries and commissions is just one component of retention.
Inside sales is hard, unglamorous work. If you want to keep your people we recommend:
Provide them with a proven process, sales tools, and infrastructure
Have a clear career path in place so that individuals know they can progress within the department and company
Give them ongoing support and training they need to be successful
Make them happy and motivated with extras such as paid time off, pizza parties, bonuses, travel incentives, merchandise gifts, recognition awards, and other goodies
Keep toxicity out of your group. Make it fun. Keep it light.
Spoil them in any way and every way you can, as often as you can
Another perk people value is a short commute. Consider setting up a branch sales office in an urban area to attract talent; we know of several companies that have set up remote offices for inside sales reps. Many people, especially highly sought after Millennials, don't like long commutes.
In conclusion
Inside sales is a high stakes game. Unfilled inside sales roles can have insidious effects on sales and revenue performance.
Today the competition for inside sales talent is brutal: inside sales candidates upon submitting their resumes are contacted within minutes by a large number of companies. Job seekers quickly receive multiple simultaneous offers. Many firms compete for candidates with the same profile: 2 years of inside sales experience, just out of college. Low unemployment exacerbates the problem.
In this hiring environment, you have to out-recruit other companies vying for the same talent you are. The tactics described in this article will enable you to accomplish this objective when properly executed.
Joe Culotta is President of Inside Sales Staff.