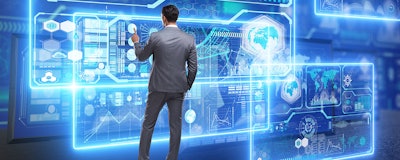 The ability to access information on the state of the business in real time is critical in the manufacturing industry. Given the sheer volume of data that manufacturers produce, as well as its growing complexity, manufacturing executives may sometimes be hindered with accessing pertinent data when they need it most, putting their business at risk. Whether responding to various audit requirements or searching for historical data, having a solid data archiving solution in place within an enterprise system will set manufacturers up for success.
Data archiving is a crucial component as organizations look to refresh their legacy enterprise systems to create a single system of record where they have easy and efficient access to valuable information, and can process data seamlessly using coordinated workflow. Archiving also becomes even more critical as organizations look to "re-platform" systems and move to new hardware, or if they want to completely change their IT strategy such as moving to the cloud or moving to another solution. Regardless of the business reason or next steps, data archiving is an integral part of an information management plan that must be put in place as organizations tackle these projects.
Addressing the Challenges Before Making the Move
Before beginning the archiving process, it's important that organizations understand and are aware of the challenges they will face. First, allow enough time to complete the archiving before making the move. Many companies forget to calculate the time and effort involved in these migrations. Since manual archiving can be cumbersome, it would be wise to invest in automated tools to speed up the process and enable sustainable information management after the migration is complete.
It's also critical to bring key stakeholders on board with the information management strategy. Doing so will ensure they understand why data archiving is necessary, and the role they'll play in making that successful. Otherwise, many users will cling to the idea that they need all their data — no matter how old.
If organizations plan accordingly, budget enough time, have the buy-in from the necessary stakeholders, and invest in the right tools for the job, these projects will go much more smoothly and deliver immediate value to the company.
First Steps to Archiving
Archiving data before a system change reduces the size of the legacy system and reduces the time and complexity of any future upgrade or new system implementation. If the archiving strategy also ensures business users are provided seamless access to archived data, organizations can apply the same data management strategy to the new system. This improves the return on investment from archiving with controlled data growth and consistent adherence to data retention requirements.
To successfully execute an archiving strategy, organizations must extract all information that needs to be preserved, whether it's for internal use or to be able to adhere to compliance regulations. Organizations must analyze existing data and create a catalog of all the data contained in the system: master data, transaction data, and unstructured documents. From there, businesses can then determine what information needs to be preserved. Corporate retention policies, fiscal regulations, and analytics are all reasons why data should be retained.
Compliance
Once data is archived, it will eventually reach its end of life and need to be purged. Having a retention policy that is clearly defined and mapped to online or electronic information is essential to remain in compliance. In addition to corporate or industry policies, there are many other reasons for retaining information that companies need to be aware of:
Tax (SOX, SAF-T)
Privacy (PII, FDPR)
Legal
The compliance requirements can vary depending on the type of data, type of industry and where that data is stored or used. In the manufacturing industry, it's especially critical to ensure the chosen retention solution is flexible enough to enable change with the retention requirements for online and archived data. As new regulations may be introduced yearly, policies will need to be updated and applied, though some of the data that the regulations apply to will have already been archived. It's critical to have easy and efficient access to this data to adhere to any and all regulations.
Legacy Decommissioning
For obsolete systems, once all the data is archived or moved to the new system there is no need to keep the legacy system running. However, many migration projects don't account for the cost of maintaining these systems after the migration is complete. The cost of maintaining legacy systems is relatively high, especially considering the system no longer provides value to the business.
Also, these systems become orphaned. With little attention paid to them and few staff that know how to run them, the systems can create additional risk for the company because they are vulnerable to attack or crashing. This is where archiving can help. Move data out of legacy systems so they can be safely decommissioned. Not only will it save costs, it will make it easier for users to access the information when they need it for legal or audit inquiries.
Continuous Archiving
With a sustainable plan to manage data in ERP systems, businesses can reap great rewards, seen in the reduced total cost of ownership and the improved ability to analyze business trends and respond quickly to audits and queries.
Once a data archiving strategy is in place, businesses can sustain those benefits even with future systems by regularly reviewing their business processes and ensuring that archiving is being done consistently so that the organization can meet compliance standards and maintain system performance and cost savings.
Dr. Werner Hopf is CEO of Dolphin Enterprise Solutions Corporation.