If you're striving for operational excellence (and who wouldn't to improve productivity, product quality and customer retention?), you might find yourself asking "How do I get there?". Driving Continuous Improvement (CI) and excellence is no easy task, but all journeys start with a single step. First things first — focus on the journey, not the destination. A methodical and diligent approach is key to helping your company put its best foot forward.
Getting to operational excellence takes a highly effective CI team — a team assembled from the best people with the best ideas. Team assembled and ready to go? Here are 7 tips to help guide you on your journey to operational excellence:
No. 1 - Unify Different Perspectives and Disciplines
Let's first take a look at your team. Individual departments within an organization have proven they can work toward a greater goal and be productive, but combining expertise across broad disciplines produces the best results. To receive considerably more value from a CI team, connect members from cross-functional departments and perspectives. Impact the business with regularly scheduled meetings to discuss concerns and opportunities to recommend solutions. If multiple departments and employees are engaged, the solution will have a greater impact.
No. 2 - Define Goals That are Relevant and Achievable
A cross-functional team with a collaborative approach will only lead you so far on your CI path — your organized and motivated team could be overwhelmed by the sheer volume of improvement possibilities. The best and most informed decisions need to be based on business priorities. You do not have to tackle the entire factory at once. Begin with the areas, systems, lines or disciplines with the most dramatic opportunity for overall productivity. It is paramount to have a clear understanding of the current performance level for challenging, yet realistic, improvement.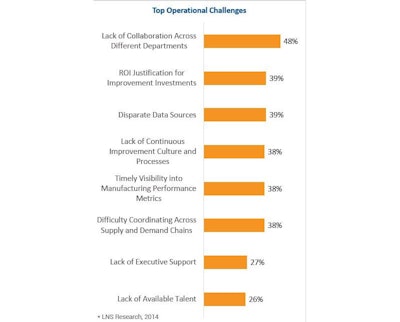 No. 3 - Extract Accurate Data to Improve Efficiency
The dream team is assembled, the business drivers are established, and the key goals in place. What is the next hurdle? Businesses are compelled to report high efficiency numbers to their shareholders and annual reports; however, using the same metrics on the factory floor may hide areas for improvement. Insight into the shop floor is needed by corporate executives as well. Plant data must consider Availability Losses — such as changeover, sanitation or preventive maintenance — that affect the entire CI team.
No. 4 - Decrease Dependencies to Decrease Errors
Operators should also be involved in CI. They have a dramatic impact on the business, including a first look at the equipment and valuable insight in identifying and reporting efficiency losses. At the end of the day, however, their main job is operating the line and not collecting detailed performance information (i.e., recording/acknowledging/categorizing events and performing root cause analysis).
CI teams must have the ability to non-intrusively ask operators for vital information to help improve or eliminate production losses. Categorized as selective involvement, operators can provide input on production with minimal interference to operations. Typical process automation alarm systems can be ignored, but a system that requires minimal, yet effective, involvement is more readily accepted and used.
No. 5 - Digitize Relevant KPIs for Analysis
Use automated KPI-based metrics for root cause analysis. How do you get the right information, at the right time, to report the right KPIs? Even diligent operators using manual production monitoring systems like paper, stop watches or scales are only able to capture minimal — potentially inaccurate — details. To analyze and understand the root causes of your production losses, the CI team needs timely access to accurate reports and analysis found in a real-time performance management system. The in-depth analysis and availability of various reports make it possible to quickly and effectively identify the root causes of loss events and, more importantly, devise solutions to eliminate them. Manufacturers who migrate to automated systems frequently see more loss events recorded than previously captured by manual techniques. Accurate information about various production loss events leads to the identification of improvement; by analyzing the root causes of these loss events, you will find effective ways to correct and minimize them.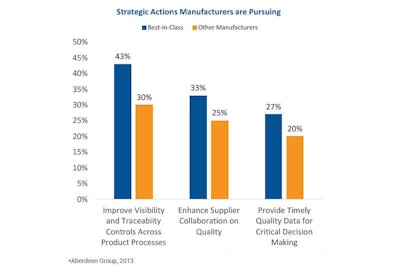 No. 6 - Prioritize Quality for Real-Time Response
With organizational structure in place, CI initiatives become manageable. Making the best quality product with improved speed and reduced waste is vital — and starts with you.
By avoiding misbranded items, cross contamination and processing flaws, you create consistent product quality, which breeds customer loyalty. To put this in perspective, 68% of Aberdeen's Best-in-Class manufacturers did not issue a recall in 2012 — no product replacement or damage control was necessary. To avoid these harmful and expensive recalls, and to remain in compliance with government regulations, global manufacturers increasingly turn to digital traceability solutions.
Product traceability, from each supplier to consumer, addresses root cause issues and ensures compliance and quality standards. The CI and management teams require this data in real time to have a better handle on the situation on the shop floor. Accessible critical data expedites responses to particular events and greatly reduces the risk of a defective product finding its way into the stream of commerce. Evaluating these processes across divisions and perspectives is the ideal way to figure out where the failures occur and prevent them from happening again in the future.
To increase your chance of success, analyze the root causes of production losses, prioritize the issues to be addressed, and establish a consensus before implementing changes.
No. 7 - Benchmark Your Results with Industry Leaders
With the progress of your cross-functional team, operators and automated KPIs, what is the next step? Is your manufacturing environment centralized with standardized metrics, or does your company evaluate numbers across divisions, plants or lines? What about your competitors?
When the company embraces a productivity-centric focus, the rewards to the bottom line, company culture and individuals are clearly calculable. CI can be the competitive advantage that spurs your organization toward significant and sustained growth. It provides the best possible product to market, highest customer satisfaction and loyalty, and a return on investment to justify the end goal. To substantiate this, benchmark your production. It is important to know where you stand relative to competitors and the industry. Significant reduction in productivity losses can be achieved with knowledge of industry trends and KPIs. By using these proven methods, the CI program will yield significant results — not least, increased profitability.
Keeping these proven tips and best practices in mind, you're well on your way to taking your CI strategy to new heights and achieving operational excellence.
Gregory Newman is VP of Marketing at Parsec Automation Corp.