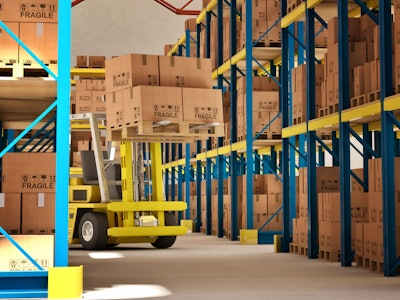 There are many warehouse software options on the market, and the biggest challenge organizations face is selecting the tools that most accurately match their need to ensure the fastest payback. Proper investment in software for the warehouse provides the best gains in efficiency and the shortest payback periods.
There are two fundamental features that must be present regardless of the tools selected. First, tight integration with your organization's ERP system is fundamental. Tightly coupling ERP to the warehouse improves efficiency, accuracy and, ultimately, customer satisfaction. Second, the software must be flexible enough to match future business needs. The supply chain industry is far from stagnant. The rise of e-commerce and companies like Amazon has highlighted the industry's ability to evolve rapidly. Flexibility is key to survival, and it's critical to consider your company's individual needs before deciding which solution is the best fit.
Here are three categories of software for warehouse optimization and the environments they are best suited for:
Middleware Picking Applications
Middleware picking applications are best suited for small to mid-size warehouses with 50,000 square feet or less. This software focuses on the picking process and has the ability to integrate your warehouse operations into an Enterprise Resource Planning (ERP) system. Optimizing the picking process delivers the fastest payback in the warehouse, generally under nine months, and provides system-directed picking so your employees know where inventory is in the warehouse. With this system, your warehouse will see productivity gains of up to 25 percent, and it's relatively easy to implement compared to the larger systems. With middleware picking applications, you generally have a choice between a scanning or voice-controlled system. Voice-based systems provide the highest gains in efficiency.
Out-Of-The-Box WMS Solutions
These solutions are generally from well-known large Warehouse Management System (WMS) providers. Currently, only 28 to 30 percent of the marketplace is using some form of WMS. Any WMS provides tighter tracking of inventory and is effective at reducing losses caused by damage and spoilage. Large warehouses or warehouses with a lot of high-value inventory benefit the most from WMS solutions. Another benefit of this type of software is that the system-directed picking increases efficiency. Your employees will know exactly where to go in the warehouse to pull an item, which in turn improves shipping time, decreases inventory loss and improves customer satisfaction. When reviewing a WMS solution, make sure its default process flows match your warehouse needs.
The largest disadvantages of out-of-the-box WMS solutions are that they can be difficult to customize and expensive to implement. WMS routinely cost over one million dollars, with paybacks of five years or greater if all goes well. This level of investment and long return period creates a barrier of entry for organizations — they're hesitant to make that level of financial commitment. The situation is worsened if the default process flows in the WMS do not match your operations and customization is required. Customizations are risky, costly, and rarely compatible with future versions of the WMS. Upgrading customized systems means the very expensive process of re-implementing the customizations in the new system. Many companies with customizations elect to never upgrade for expense reasons. Because of this, out-of-the-box software works well in environments where the WMS's default process model can be used and all your warehouses follow the same process.
Custom WMS Solutions
Finally, custom solutions provide the best integration of third-party systems. If your warehouse contains multiple financial, placement or ordering systems, a custom WMS will allow seamless integration between all systems. Custom solutions give you the best total cost of ownership for the life of the product. Large warehouses, in excess of 100,000 square feet, benefit the most from this type of WMS. If you have one or more automation systems to integrate with (multiple ERP systems, automatic cranes, robotic carts, automatic shrink-wrap machines, etc.) this solution seamlessly integrates warehouse operations into a single, uniform process. When implemented properly, this solution delivers the lowest TCO over the life of the project. On the other hand, these types of solutions can be expensive to implement and require strict project management to efficiently implement.
There are many different options to select from in supply chain software, and choosing wisely requires a close evaluation of your needs. With new technologies constantly emerging in an attempt to improve operations in the supply chain, it's difficult to say what will take off next. It is important to stay informed and know all of your options so that your organization can optimize its warehouses with the latest software and one that is the best fit for your particular environment.
Scott Beaman is Director of Product Development of Voice Solutions at Computer Task Group.