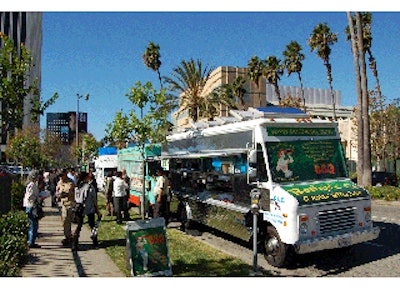 According to Intuit, the mobile food industry is expected to grow to a $2 billion/year market by 2017 — it finished 2012 at $650 million. Even though mobile canteens started in the late 1950s, the most recent BOOM in this industry started in Los Angeles, California in the early to mid-2000s, when uber-talented chefs, cooks and food enthusiasts came out of culinary schools with a desire to start restaurants, but could not — due to the economy and lack of financial resources to do so. Being resilient to the lack of resources, these Los Angeles residents decided to take matters into their own hands by lining up outside of office buildings, schools and neighborhoods and providing people with delicacies, who were "on-the-go" in their own special way.
This instantly became a win-win situation as the public got the chance to experience unique offering right where they work (and play), and chefs got a chance to get their product to the market and earn a living as they built a reputation. Through social media channels, the food truck craze began to spread. Whether people were tweeting about a new truck with great food, or posting about the convenience of a truck outside of their job, people began to take a closer look at the mobile food industry.
As time passed, the "food truck movement," slowly began to spread to bigger and denser markets (including, but not limited to: San Francisco, Portland, Austin, New York City and Miami). Miami became a huge market as a handful of trucks strived to bring international cuisine to the different nationalities that reside, frequent, and visit the city.
Shortly after, HOLLYWOOD began to take notice. This is when shows such as "The Great Food Truck Race" and "Eat St" (Food Network) began to not only focus on the food and trucks, but also provide insight on the intriguing personalities of the masterminds behind these trucks. As food-truck themed programming on the Travel Channel, Cooking Channel and Food Networks continued, the general public began to take notice. This showed food trucks as something a little more than "the hotdog cart that you visit when leaving a nightclub." It took on a life of its own.
To date, movies such as CHEF (a 2014 American comedy-drama film directed by Jon Favreau and starring Sofía Vergara, John Leguizamo, Scarlett Johansson, Oliver Platt, Bobby Cannavale, Dustin Hoffman, and Robert Downey, Jr.) have made an impact on the mobile food industry. In the movie, Favreau plays a professional chef who, after a public altercation with a food critic, quits his job at a popular Los Angeles restaurant and returns to his hometown of Miami to fix up a food truck.
Behind the scenes, an actual food truck owner and chef Roy Choi served as a co-producer and oversaw all of the menus and food prepared for the film. It grossed over $45 million at the box office and was well received by critics. Movies like this have brought international exposure to the mobile food industry, and continue to inspire chefs and cooks to figure out ways to bring cuisines and delicacies to the people without having a brick-and-mortar location.
The mobile food industry also allows aspiring entrepreneurs to conduct sufficient market research before investing in an actual location. With this market research, they often come out with some key tips on staying afloat in this industry, including: offering something unique, finding a niche and executing it, and utilizing social media to the best of one's ability. Again, social media is a key component as you can engage with your following/customers, address issues in real time, and try your best to correct them as soon as possible.
When searching for a product to launch, I suggest researching your local market and find where there is a void. There has to be a unique proposition, as far as the public is concerned. If you can do grilled cheese sandwiches or burgers better than the next guy, it still may be difficult to receive market share. From my experience, there are TOO many people duplicating each other. Business owners should try their best to attach themselves to an industry that is on the cusp of booming and can envision the opportunity just around the corner. At the same time, you want to make sure you are creating a business model in an industry that is booming. For instance, according to Technomic, the Ice Cream and Frozen Novelty industry is expected to grow to a $12.7 billion dollar/year market over the next 3 years — so I always knew that I was in the right industry. In my experience, HipPOPs started with making my own handcrafted gelato bars and cleaning my own truck. Then, I had my mom and wife assisting with social media marketing and doing the dishes. Fast forward to date, I'm no longer on the truck on a daily basis — as I now have a great team of POPologists, truck managers and POPstars — who all share in my vision and passion for building the brand.
One of the key points that has helped me grow my business in such a short period of time is that HipPOPs helps create experiences with our frozen desserts. Similar to restaurants that help you pair a craft beer with the perfect gourmet burger or a great cut of beef with a perfect glass of wine, I strive to excite one's taste buds with my sorbet and gelato dipped in our signature Belgian chocolate dips and unique toppings. HipPOPs is a complete experience touching all senses. Aside from a fantastic tasting product that one will experience, you can also tie it together with other experiences including: visuals of the POPtruck, and seeing all of the different flavors being dipped exactly how you want them — an experience that is reminiscent of a kid in a candy store. Also, I have positioned my brand to coincide with the culture of Miami (including the art, community, fashion, music, food and much more).
When starting a food truck, I would also recommend attending the ROAM conference (which will be held in San Antonio, Texas on November 8 & 9). At these conferences, participants can attend a food truck boot camp — which teaches entrepreneurs how to choose a concept and menu, how to buy or lease a truck, how to abide by certain health codes and regulations, and gives you the opportunity to network with event planners, bloggers, operators and policy makers. I would also recommend traveling to bigger markets, studying trucks and speaking with as many operators as possible.
About Author
Anthony Fellows, Chief POP Officer at HipPOP's handcrafted gelato bars.
For more information on my background and Franchising Opportunities with HipPOPs handcrafted gelato bars please go to http://www.franchisehippops.com.