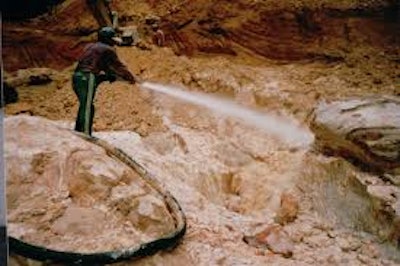 The Canadian-based owner of a gold mine in northern Nevada has agreed to pay a $182,000 civil penalty for failing to correctly report to federal environmental regulators the release of millions of pounds of toxic chemicals — including arsenic and cyanide — into the air and ground.
The U.S. Environmental Protection Agency announced the settlement Thursday with Veris Gold USA, a subsidiary of the Vancouver-based Veris Gold Corp.
Veris Gold failed to properly report the chemical releases and other waste-management activities at its Jerritt Canyon mine in Elko County about 50 miles north of Eureka, the EPA said. The releases during 2007 and 2008 involved 10 different chemical compounds, including arsenic, mercury, lead, nickel, zinc, copper, cobalt, and cyanide, the agency said.
The reporting is required under the federal Emergency Planning and Community Right-to-Know Act.
"The action is part of the EPA's National Mineral Processing Enforcement Initiative which aims to minimize risks to drinking water and other resources posed by hazardous waste operations at mineral processing facilities," the agency said.
Veris Gold officials confirmed the settlement agreement and said in a statement Thursday that the company is now in compliance with all federal laws and regulations at the mine with 120 workers. "The reports have been filed and the company continues to meet its filing requirements since that time as well," Veris Gold said.
Joel Jones, assistant director of the air, waste and toxics branch of the EPA's regional enforcement division in San Francisco, said in a formal complaint last September that Veris Gold under-reported by more than 1,900 percent the releases associated with the manufacture of nearly 4 million pounds of arsenic. The mine also under-reported releases tied to the manufacturing of more than 700,000 pounds of cyanide and 47,000 pounds of lead, Jones said.
Last year, the U.S. Mining Safety and Health Administration issued 49 citations and 12 safety orders at the Jerritt Canyon mine after two employees were injured in an electrical explosion and fire in December 2012. The violations included blocked emergency escape routes, faulty pressure-relief valves and improperly stored hazardous chemicals at the operation.
The company also has mines in British Columbia and the Yukon Territory, but its primary holdings are in Nevada.