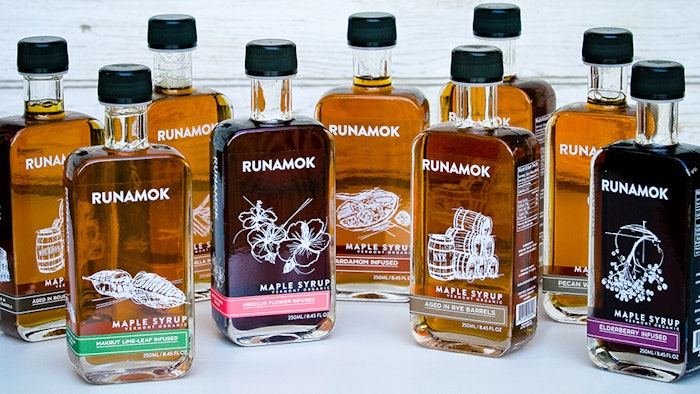 Rows of barrels are piled high against the wall outside of Runamok Maple's production facility, which is tucked into a serene hillside in Cambridge, Vermont. They're the same type often used to hold oil, but what's inside these barrels is a commodity that's much more valuable than that — maple syrup.
"Right now a barrel of oil is about $50," Eric Sorkin, the company's co-owner points out. "But right now the same amount of syrup is worth about $1,500."
That's just plain maple syrup. What Runamok is now producing is fetching an even higher price.
Last year, the company transitioned from manufacturing wholesale maple syrup — which it had been doing since 2009 — to producing specialized, flavor-infused syrups. Sorkin, alongside his wife and company co-owner, Laura, knew Runamok was entering a market with large potential and few competitors. But their success in the last 18 months has been beyond their wildest expectations.
Part of what sets Runamok's syrups apart is the way its bottles are designed. Even in Vermont, where grocery stores are stocked from the floor up with locally made maple syrups, Runamok's products stand out from the crowd. Instead of the traditional jug, Runamok's syrup is presented in sleek bottle that looks more like it would hold a specialty liquor. Affixed to the front, a whimsical illustration portrays the main ingredient each of the company's 12 flavors — such as Pecan Wood Smoked, Ginger Root or Rum Barrel-Aged.
For many food companies, labeling is an afterthought. But Runamok's look is part of what has helped set it apart and garner attention from about 20 publications nationwide. And that presentation, along with its bold flavors, has made Runamok one the most exciting companies to shake up the maple syrup industry in a long time.
The Big Break
Runamok's rapid, runaway success came from a moment that seemed destined for failure.
Shortly after Runamok launched in June 2016, the company signed up to be an exhibitor at the Fancy Food Show in New York. But it registered at the last minute, and, upon arrival, the company was placed in the basement, against a back wall where the lighting was poor, and the Sorkins felt like they wouldn't get any traffic.
"We got there and we thought it was going to be horrible," Laura Sorkin explains.
As it turns out, it was one of the best locations at the show. Because Runamok was placed alongside other companies with new products, it was in the area that journalists typically visit first. Among the press at the show happened to be staff from O — The Oprah Magazine.
"Oprah's people walked by and were first attracted to the bottles," Laura Sorkin explains. "Then they tried it and they loved it. So, they sent it to Oprah and she loved it."
Runamok isn't the only maple syrup company that infuses its syrups with flavor. But few in the U.S. take it to the level of perfection as Runamok.
For example, some companies might add a cinnamon stick to their bottle to impart the flavor into their syrup. But when produced this way, the flavor from a cinnamon stick can make the taste of the syrup change over time, potentially making it bitter.
For its Cinnamon + Vanilla infused syrup, the staff at Runamok tested dozens of different kinds of cinnamon before finding the right one, which is added to the syrup as it cooks and then filtered out. Runamok also has several varieties that are aged in barrels for an average of six months to a year, giving each syrup a distinct — but not overbearingly — boozy quality. The company's Bourbon-Aged is its most popular of all.
The foodie press has eaten up these unique syrups, seeing their potential use in trendy cuisine and drinks — not just waffles and pancakes.
After some back-and-forth, Runamok's maple syrup landed in O Magazine's yearly gift guide for the December 2016 issue. Around the same time, Runamok was featured in a host of other national publications.
As sales took off, Runamok hired a public relations firm to help handle the attention, and keep the momentum going. The company's biggest boost came from a short appearance on a "Made in America" segment run by ABC World News.
"We were in a segment alongside three or four other small businesses," Laura Sorkin says. "And afterward, we got this enormous bump on our website. We filled about 1,200 orders within the next 24 hours. Just from 15 seconds on national news."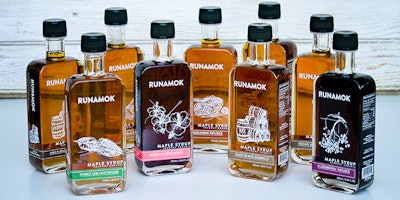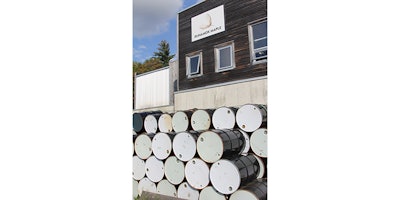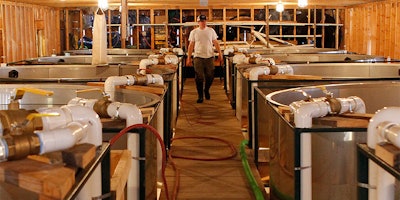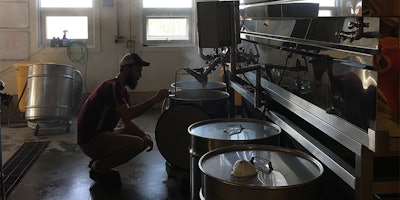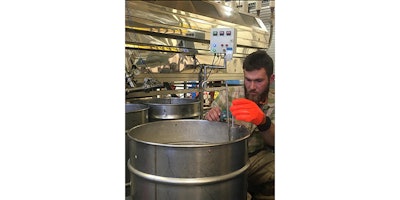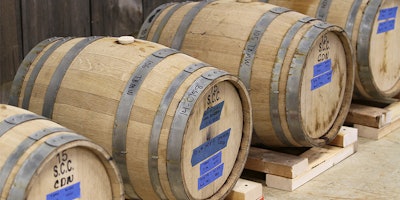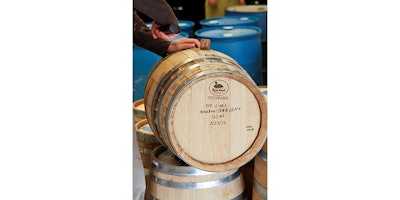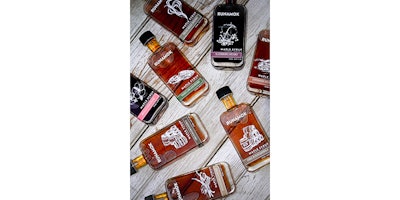 Changing Tastes
"Right now, we're drinking from a fire hose," Eric Sorkin says of the company's growth. "But we're trying to build a company that will stand the test of time."
Aside from offering something new for consumers, Runamok syrups are in line with many emerging consumer trends: they're organic, GMO-free, clean label and an alternative sweetener.
They may have won over the press, but to maintain its vitality, Runamok will have to change consumer tastes and convince shoppers that plain maple syrup isn't satisfying enough anymore. At about $17-20 per 250-ml bottle, that prospect might be tricky.
To help, the company's staff frequently pound the pavement, offering tastings at locations in Vermont and around the country. They are also adding retail partners from coast to coast.
Despite the higher-than-average price point, Eric Sorkin is confident that once people taste the syrup, they're likely to convert shoppers seeking high-quality, specialized products.
"The example that always comes up is Starbucks," he says. "At first, people didn't think anyone would want to spend that much money on coffee. But, if it's high-quality, they'll want it. Olive oil was the same way.
"From a business perspective, this is not a windfall. We struggle to keep the price as low as we can. But we're obsessed with quality. We put our best product out there every time."
Inside The Sugarhouse
It's the best kind of problem to have, but growing so quickly has presented Runamok with its share of challenges.
The style of its facility, for example, has become one of the company's most pressing concerns. Built like a traditional "sugarhouse," the square, brick shape of their plant was designed for processing wholesale maple syrup — not manufacturing small bottles.
The facility also sits at the end of a dirt road, on the edge of the company's "sugarbush" — the sprawling woods filled with the 80,000 trees the company taps each year to make its syrup. While scenic and peaceful, the location continues to pose logistical problems.
Eric Sorkin says the company is now hunting for a new space that will be better equipped to handle all the research and development, processing, bottling and labeling Runamok requires.
Like most food manufacturing companies, Runamok also struggles with finding the right talent to fill positions as it grows. Currently the company employs about 35-40, depending on where they are in the sugaring season.
One of the company's biggest challenges, however, is well beyond its control.
As the climate has warmed, the season when trees are tapped for syrup has begun to vary. Years ago, the sap flowed from about March until April. Now, sugaring season has become more of a moving target.
"Sometimes it starts in January and then it'll flow for a few weeks, then freeze up for a month and then get better again," Laura Sorkin says.
To make the most of sugaring season, whenever it is, the company uses vacuum technology to collect the sap from the trees, which is then sent back to the facility via a long, interlocking network of pipes. At its peak, Runamok produces 7,000-10,000 gallons of sap an hour, during which time, the company's 10 7,000-gallon tanks each fill up in about 40 minutes.
To turn the sap into syrup, Runamok uses reverse osmosis technology to filter out the water — which is about 97 percent of the sap — and preserve the remaining liquid. The water is released into a nearby grassy swale, and absorbed back into the local watershed. The rest is cooked into maple syrup.
All told, the company processes about 2.5 million gallons of sap a year.
Even with its capability to quickly process large amount of sap, Laura Sorkin says there's little Runamok can do to predict or outpace the effects of climate change.
"There's no normal [sugaring season] now. No amount of technology helps that," she says.
Branching Out

Runamok doesn't just see potential in syrup — the company is diving into the maple candy market as well.

Earlier this year, Runamok announced that it is buying the maple candy operation from Bascom Maple Farms, a company located nearby that's one of the country's largest producers of maple candy. With the new purchase Eric Sorkin and the team will continue to produce maple products for six private labels.
The move could also give Runamok a new product to tinker with.
"We have lots of plans for it," Eric Sorkin says, hinting that they could be looking at ways to pair the traditional maple candies with new flavors.
Eric Sorkin says that as Runamok continues to embark on new partnerships, try new flavors and grow its sales, the company's approach comes back to a simple credo.
"We're building a healthy work environment where people want to work," Eric Sorkin says. "We're not trying to build something to sell it. We're building something that's really solid and fits our ideals with products we're proud of."