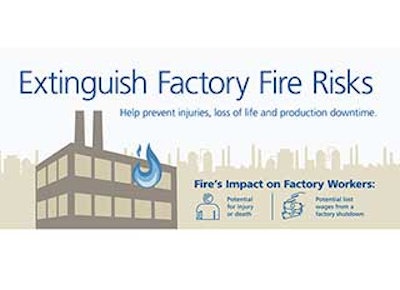 Creating a basic pre-fire plan can help a manufacturing facility prevent injuries, loss of life and production downtime. That's why Zurich North America is recognizing National Fire Prevention Week (Oct. 5-11) and recommending that factory owners take five important steps to help increase fire safety at their buildings.
"Fire is the No. 1 preventable disaster at manufacturing facilities," said Cindy Slubowski, vice president and head of manufacturing at Zurich, a commercial property and casualty insurance provider. "Most fires are preventable, and the risks can be reduced dramatically."
According to the National Fire Protection Association (NFPA), property losses at U.S. factories total nearly $1 billion each year. To help reduce these annual losses, Zurich recommends that manufacturing facilities make a commitment to the following five steps:
1) Gather information – Accumulate property and tenant data. Note any unoccupied floors, alarm system details, hydrant availability, information on fire protection equipment and heating and cooling systems, and quantities and locations of hazardous materials. List all tenant locations and their contact information, descriptions of their businesses, hours of operation, when they are on site, and if they have employees with specific rescue needs.
2) Document and publish information – Develop written plans that are easy to understand, accessible and regularly updated. Include property and tenant data, as well as maps and diagrams that reflect the building's construction (size, height and fire-rated walls) and the surrounding property's configuration. Include blueprints, floor plans and aerial photographs. Publish the information in binders, on your server and in the cloud for electronic access.
3) Host building walk-throughs – Periodically invite the fire department to visit. Direct knowledge of a building may help save lives and minimize damage. Inspections and walk-throughs are especially important in complex buildings and neighborhoods predominantly served by volunteer firefighters because officers frequently change.
4) Practice, practice, practice – Conduct regular drills to teach employees exit strategies in the event of a fire. Everyone should know how to safely reach the exits during an evacuation. Employees should meet outside at a pre-determined location so a head count can be taken.
5) Assign tasks – Owners and occupants are just as vital to a pre-fire plan as fire departments. Appoint fire wardens who will evacuate building occupants during a fire. Also appoint people likely to be in the building at all hours to notify the fire department in an emergency.
"Building owners should never hesitate to work with their insurance company to develop a pre-fire plan that fits their manufacturing facility," Slubowski said. "Insurance providers have the experience and resources to help, and we have as much of an interest in protecting their facility as they do."
When fire prevention efforts fail, automatic sprinklers are an effective secondary line of defense. They not only can protect property from fire damage, but they also play a major role in helping reduce injuries and fatalities. According to the NFPA, sprinklers have a 97 percent success rate in controlling fires when sprinklers operate during the blaze.
"Sprinklers are a proven method of keeping fires from raging out of control, which gives building occupants a greater chance to evacuate without injury," Slubowski said. "On top of that, firefighters face fewer risks while working inside the building to completely extinguish the fire."
Fire Prevention Week commemorates the Great Chicago Fire of 1871. The tragic event killed an estimated 300 people, left 100,000 homeless and destroyed more than 17,000 structures.
For more details from Zurich about fire prevention, visit the company's web page by clicking here.