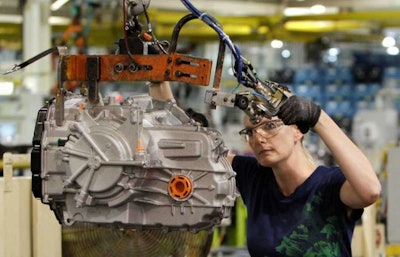 A newly released analysis suggests that the gap between open U.S. manufacturing jobs and the skilled workers needed to fill them is overblown.

The first-of-its-kind study, conducted by researchers from the University of Illinois and Massachusetts Institute of Technology, sought to measure the skills that manufacturers seek as well as organizational characteristics and hiring outcomes.

Although industry observers routinely express concern about a growing skills gap, the paper instead characterized demand for higher-level skills in those jobs as "generally modest."

The paper found that jobs requiring higher-level math skills — and, perhaps surprisingly, reading skills — often translated to longer vacancy periods, but that other skills, including those relating to computers, critical thinking or problem solving, did not.

Illinois employment relations professor and co-author Andrew Weaver suggested that the skills gap debate was largely framed by "trade associations and consulting firms" whose surveys attributed 60 to 70 percent of job vacancies to a lack of qualified applicants.
The paper, published in the journal ILR Review, pegged that number at "16 to 25 percent."

"The claims and the data sets that are out there often don't involve the direct measurement of skills, so people are looking at vacancy rates across the entire economy or all manufacturers," Weaver said. "There's very little data in which people go in at the plant level and measure what skills U.S. workers need to have."

He added that the problem with long-term manufacturing vacancies likely was not the labor force, but instead a disconnect between companies, workers and the training entities needed to harmonize them — namely, community colleges and trade associations.

The paper also that found vacancies particularly plagued manufacturing clusters, which tended to develop sophisticated, niche labor markets without the resources needed to train new employees.

"You would think it would be the manufacturing plant that's off by itself in the middle of nowhere that doesn't have access to a pool of skilled labor — but it didn't turn out that way," Weaver said.