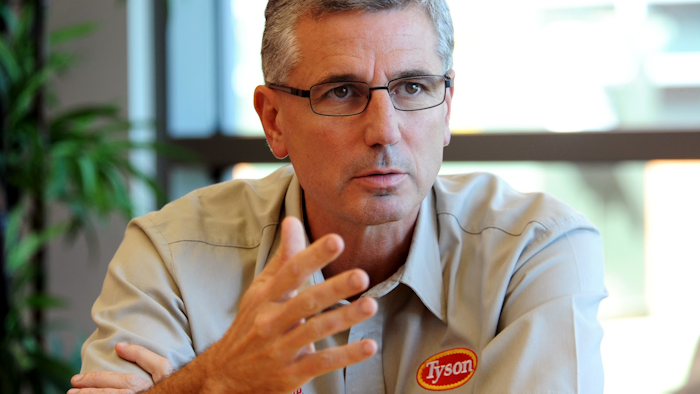 Tyson Foods CEO Donnie Smith will step down at the end of the year and will be succeeded by current company president Tom Haynes, the Arkansas-based meat giant announced Monday.

Smith, who became CEO in 2009, will be able to continue in a consulting role for three years. Haynes will remain the company's president and will take a spot on its board of directors effective immediately.

Company officials said that the time was right to make a change and that tapping Haynes would ensure a smooth transition and build the company's strategy of producing fresh meat as well as branded prepared products.

"The board has the utmost confidence in Tom's ability to build on the platform Donnie has created, to expand further into developing markets, new product categories and proprietary food experiences, and to continue investing in our core nine categories," board chairman John Tyson said in a statement.

The announcement coincided with lackluster financial results for the third quarter.

Revenue slid from $10.5 billion in the third quarter of 2015 to less than $9.2 billion in the latest three-month period, while adjusted earnings of 96 cents per share and projected full-year earnings of $4.70 to $4.85 per share both missed analysts' expectations, the Associated Press reported.

Tyson is also facing a class-action lawsuit over allegations that major chicken producers colluded to stabilize prices in recent years, but a company spokesman told USA Today that the announcement "has nothing to do with any pending litigation."