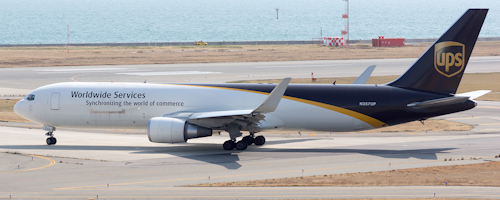 Members of the union representing UPS aircraft mechanics and maintenance workers voted overwhelmingly to authorize a strike in recent weeks.
Teamsters union officials announced Monday that 950 of Local 2727's 1,200 members participated in the vote — and that 98 percent of voting members favored strike authorization.
The announcement deepens the three-year contract dispute between the parcel giant and its air cargo maintenance staff, but both sides previously acknowledged that a strike would not take place during the busy holiday shipping season.
Federal law includes numerous hurdles to work stoppages that could significantly affect traffic or commerce.
Talks between UPS and the mechanics union stalled in March amid what the union characterized as demands for "massive" cuts to health care and retiree benefits.
Union officials noted that the dispute coincided with billions in profits reported by UPS and added that the company's third-quarter financial results beat expectations.
"No one wants to strike, but members voted overwhelming to authorize a strike because UPS is refusing to work with us," Teamsters Local 2727 President Tim Boyle said in a statement.
A strike would be the first work stoppage to affect UPS in 20 years.
The company responded that the vote was a "routine show of solidarity common in many negotiations" and that progress toward a new contract continued under federal mediation.
"UPS continues to negotiate in good faith for a contract that is good for our employees, our customers and our company," officials said in a statement.