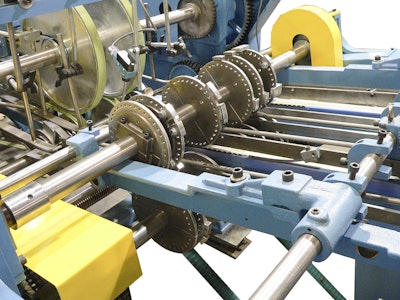 WSI Global, a leading manufacturer of finishing equipment for the carton converting, liquid packaging, and corrugated industries, announces that its FZ Right Angle Gluer is designed to manufacture bottle carrier cartons dependably at speeds up to 12,000 cartons per hour, making it ideal for short-run, microbrewery use. The FZ Right Angle is remanufactured on the cast iron frames of existing right angle gluer equipment, dramatically lowering the price point compared to new equipment while running at comparable speeds.
The machine's carton-specific denickers shear instead of tearing nicks, ensuring that the carton's print is not disrupted. Denicker changeover between different dies is fast and easy, replacing the entire shaft mounted denicking wheels already set to the die. Additionally, WSI Global's CS-1000 Compression Section generates equal compression over all of the cartons' different board thicknesses, ensuring proper glue set.
Though most FZ Right Angle gluers feature advanced, automatic glue extrusion systems, the product is also available with traditional glue pots.