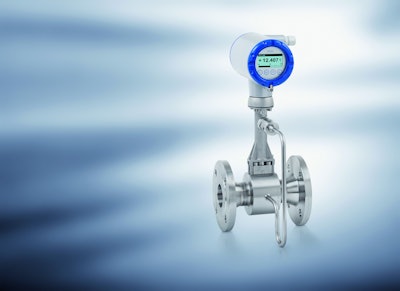 Peabody, MA: KROHNE, Inc. announces the availability of the new OPTISWIRL 4200 vortex flowmeter, ideal for advanced energy management systems. Used to measure both conducting and non-conducting liquids, gases and steam, the new OPTISWIRL 4200 vortex flowmeter can be used for internal monitoring of energy flows for saturated and superheated steam or hot water, and heat metering applications. It is also a perfect choice for such applications as steam boiler monitoring, burner consumption measurement, or compressed air network monitoring, including free air delivery (FAD) applications.
Equipped with comprehensive communication options, and designed in accordance with international IEC 61508 functional safety standards, the OPTISWIRL 4200 is a major update to the original OPTISWIRL 4070. With one temperature sensor integrated as standard, the device can be installed as a heat meter in the feed line directly connected with an external temperature sensor in the return line. The gross and net heat calculation can be fed into a distributed control system (DCS) to support advanced energy management.
The all-in-one solution features integrated pressure and temperature compensation, and can perform both gross heat calculations for steam and net heat calculation for steam and condensate (hot water). The OPTISWIRL 4200 is available in a remote version equipped with a field housing converter with a connection cable up to 164 feet (50 meters). Temperature and pressure compensation options are also available, which enable calculation of standard flow volume under fluctuating pressures and temperatures. By measurement of flow, temperature, and pressure in one 2-wire-device, the line has to be opened only once for installation.
In addition to the standard sensor range, another available option features an integrated reduction of nominal diameter up to two sizes, ideal for space-saving installations and large measuring spans. A dual version with two independent sensors and two signal converters is also available for multiproduct pipelines, redundant measurement or increased safety demands.
The OPTISWIRL 4200 also includes a variety of electronics enhancements. The device is now equipped with a new advanced vortex frequency detection (AVFD) function, as well as a newly developed signal converter (VFC 200), with advanced signal processing and filtering that suppresses interferences and disturbances in the pick-up signal and filters out signals other than the relevant frequency band. Redundant data management prevents loss of calibration and configuration data when changing electronics or display.
About KROHNE
KROHNE is a worldwide technological leader in the development, manufacture and distribution of accurate, reliable and cost-effective measuring instruments for the process industries. KROHNE focuses on forming partnerships with its customers to provide them with the most reliable and innovative solutions available in the marketplace. For more information about KROHNE's complete line of measuring instrumentation for the process industries, contact KROHNE at 1-800-FLOWING (978-535-6060 in MA); fax: (978) 535-1720, email: [email protected], Twitter, Facebook, or visit www.us.krohne.com.