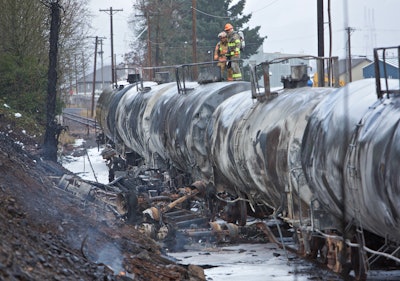 A semitrailer truck hauling fuel crashed into a parked railroad tanker on Sunday, sparking a fire that sent up plumes of black smoke visible for miles.
The truck driver was killed, and authorities continued to investigate the cause of the crash, Portland police said
Dozens of firefighters rushed to the scene from around Portland and nearby Vancouver, Washington as flames reached 70 feet tall.
The rail tankers, which contained liquid asphalt, did not leak.
It took firefighters several hours to extinguish the blaze, which began shortly before 9 a.m. in an industrial area along U.S. 30. It burned just south of the iconic St. Johns Bridge over the Willamette River.
Nearby businesses were evacuated, the highway was closed and a half-marathon race in the area was canceled as crews responded to the blaze.
When the truck crashed, the unknown type of fuel it was carrying leaked underneath railroad tanker cars parked on the tracks, which run parallel to the highway, said Terry Foster, a spokesman for Portland Fire & Rescue.
The fuel ignited, burning eight rail cars, one severely, Foster said.
"The semi-truck appeared to have gone off the road and crashed into the parked rail cars," he said.
The affected rail line is a side track owned by Portland & Western Railroad. The P&W main line was not hit, and the company does not expect any customers to be affected, Mike Williams, a spokesman for parent company Genesee & Wyoming Inc., said in an email.
The tank cars "appear to have done their job in preventing any release," Williams said.
The BNSF main line, which carries 30 passenger and freight trains a day nearby, was not impacted, BNSF spokesman Gus Melonas said.
Neighbor Josh Golden said he was awakened by sirens. When they continued coming, he went outside and saw large plumes of black smoke.
"You could see them just billowing up before the bridge," Golden said.