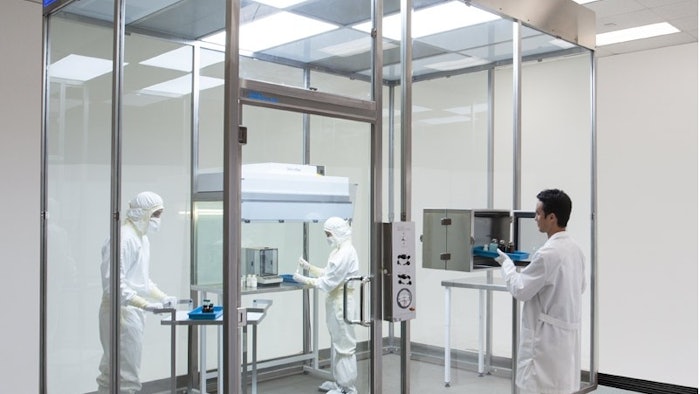 BioSafe® Tempered Glass Modular Cleanroom
Fullerton, CA – Terra newest controlled enclosure is the BioSafe Tempered Glass Modular Cleanroom. This free-standing, hardwall room is made of transparent glass panels attached to a stainless steel frame, and meets cleanliness ratings down to ISO 5. The BioSafe room is non-sloughing, non-outgassing and chemical-resistant, making it ideal for aseptic processes and frequent decontamination.
The room's ceiling grid and hardware are also made of stainless steel. The ceiling grid supports electrical modules including LED or fluorescent lights, and HEPA or ULPA fan/filter units. A power distribution module is located on top of the grid, consolidating power cords and directing all wiring to a central control panel that is convenient to access and use. The control panel contains on/off switches, the night-service mode, and a pressure gauge to monitor room conditions.
The BioSafe Tempered Glass cleanroom maintains pressure as-built. It features a glass bi-swing door with self-closing hinges that comes with an optional door stop to prevent blow-back. Steel pass-through chambers up to 24" x 24" x 24" (internal dimensions) can be installed in the ¼-inch glass panel, allowing clean transfer of materials into the room.
Terra Universal has 40 years of experience manufacturing controlled, ISO-rated enclosures. Visit Terra Universal's website for more information about their Tempered Glass Modular Cleanroom.