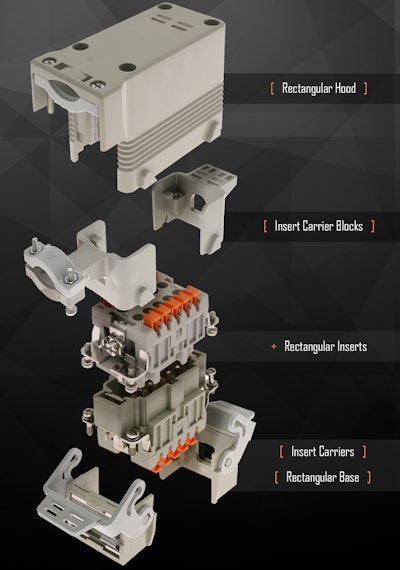 The heavy duty multipole connectors are used in electric and electronic machinery, control units, electric panels, control equipment for various industrial purposes, and wherever connections are required for power and signaling circuits.

ILME is an industry leader in the heavy duty multipole rectangular connectors. Their rugged designs make them perfect for harsh industrial environments, and are perfect for getting a connection to or from your electrical panel. However they do not stop there.

ILME also offers a wide variety of connectors for use inside your electrical cabinet with their COB (connector on board) series. The COB system does not need the traditional metallic enclosures to use multipole connectors inside electric panels, because protection is provided by the electric panel itself. Since there is no need for the degree of protection of outside the electric panel, the design is simple, easy to use, and geared for functionality. The COB system is very versatile thanks to the Interchangeability of the connector inserts.

The COB system offers the following advantages:
- Reduction in cost and space with respect to metallic enclosures and traditional terminal boards
- Possibility of rewiring at the connector bench with connected devices
- Easy wiring inspection and tests with coupled connectors, thanks to rear access to the inserts via the turnover device
- Fast mounting in panels thanks to the snap fastening device on the DINEN 60715 rails
- Sturdy support structure, specific to the size of each insert and does not require any preparation
- Broad passage for housing of conductor cables
- Mobile parts prearranged for the clamping of bundles of conductors of multipolar cables to prevent contact with the connector contacts

Mencom is also the North American Master Distributor for ILME rectangular connectors. Mencom's headquarter and warehouse facilities are located in Oakwood, Ga., just north of Atlanta.

Please visit www.mencom.com for more details.