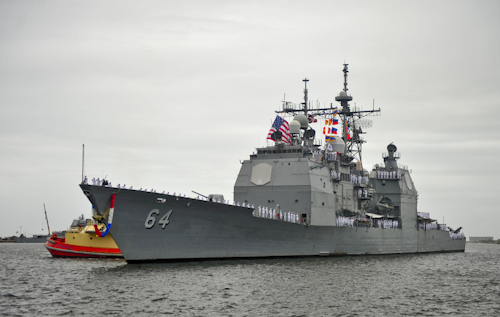 NORFOLK, VA. — BAE Systems has received a $29.4 million competitively awarded contract from the U.S. Navy to maintain the USS Gettysburg (CG 64), a Ticonderoga-class guided missile cruiser. The contract includes options that if exercised would raise the total value to $31.8 million.
The special selected restricted availability of the Gettysburg will begin in June and be completed in December. BAE Systems' Norfolk, Virginia shipyard will perform the repair, maintenance, and modernization work aboard the 567-foot-long ship. The Gettysburg is equipped with the Aegis Combat System, which provides air defense for aircraft carrier battle groups. The ship was commissioned in 1991.
"We have a very successful history of working on the Navy's fleet of Aegis cruisers," said Dave Thomas, vice president and general manager of BAE Systems' Norfolk shipyard. "This maintenance availability will prepare the Gettysburg for more extensive modernization later."
BAE Systems is a provider of ship repair, maintenance, modernization, conversion and overhaul for the Navy, other government agencies and select commercial customers. The company operates seven full-service shipyards in Alabama, California, Florida, Hawaii and Virginia, and offers a highly skilled, experienced workforce, eight dry docks and significant pier space and ship support services. The company also has commercial shipbuilding and module fabrication capabilities at its Mobile, Alabama, and Jacksonville, Florida, shipyards.