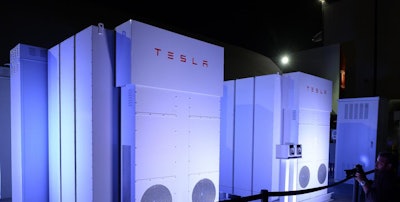 A Vermont utility is officially the first in the nation to install Tesla's energy storage system in customers' homes.

Green Mountain Power announced Wednesday that it recently began installing Powerwall batteries. The utility currently has 500 batteries available and expects to add more systems in order to meet demand.

Vermont homeowners can lease the system for about $37.50 per month or partner with GMP to purchase the Powerwall for their homes.

Tesla set the initial price for the system at $3,000. Under the latter agreement, the homeowner and GMP would share access and the ratepayer would receive a $31.76 credit toward their monthly bill.

The utility — which serves about 265,000 residential and business customers in the state — first announced plans to utilize the Powerwall system one year ago and announced additional details in December.

"This is all about delivering on what our customers need to move away from the antiquated, bulk power system to one that is cleaner and more reliable, where we generate power closer to where it's used," GMP President and CEO Mary Powell said in a statement.

The Powerwall — a rechargeable, Internet-connected lithium-ion system — is targeted toward homeowners that want to capture and store energy from rooftop solar systems. It could also serve as a backup power source in the event of an outage.

"This is a great investment for our family to increase reliability and lessen the impact of outages," said Troy Turner, a GMP customer and early Powerwall user from St. Albans. "We really believe this is the future of energy and are very excited to be a small part of the revolution."

Although the announcement represents a major step in in-home adoption of the system, Tesla CEO Elon Musk predicted last year that larger systems for business and utilities would account for the vast majority of the battery division's sales.