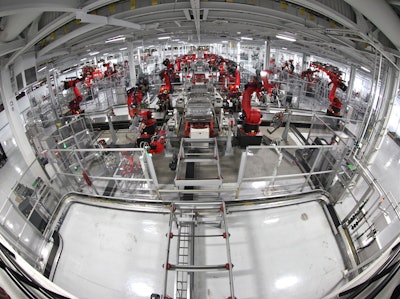 The nation's manufacturing economy continued to expand in April, according to the latest monthly Institute for Supply Management analysis.

The Manufacturing ISM Report On Business showed a Purchasing Managers' Index of 50.8 percent. Although the index was down 1 percentage point from March's PMI, a level of more than 50 percent reflected a growing economy for the second consecutive month.

The indexes for new orders, production and inventories, however, were also down compared to March, and while the employment index climbed from 48.1 to 49.2 over that span, it again fell short of the 50 percent threshold indicating workforce expansion.

Export orders showed growth for the second straight month in April, rising 0.5 percentage points to 52.5 percent, while order backlogs also climbed for two months in a row.

April's PMI indicated growth for the 83rd consecutive month in the broader economy.

Bradley Holcomb, chairman of the ISM Manufacturing Business Survey Committee, said that manufacturing would likely remain resilient "if the dollar continues to behave itself." A strong dollar — which makes U.S.-made goods more expensive abroad — hindered manufacturers for much of last year, but the currency eased to begin 2016.

Of the 18 manufacturing sectors tracked by the group, 11 reported growth, led by wood products, printing activities, paper, plastics and rubber, primary metals, fabricated metals and chemicals.

Petroleum products continued to struggle as the sector led the four contracting industries last month, while transportation equipment and furniture also saw declines.