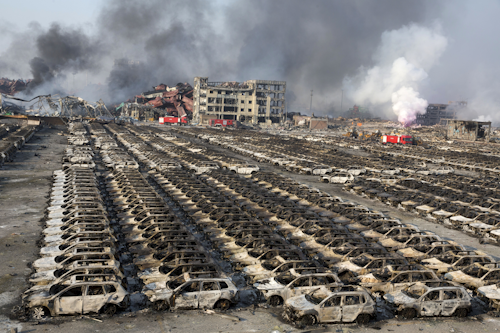 Chinese authorities last week released the findings of an investigation into a massive chemical blast in Tianjin last summer and said that 25 officials would face charges.
The Associated Press, citing the official Xinhua News Agency, reported that investigators blamed the initial fire on nitrocellulose at unlicensed warehouses owned by Ruihai International Logistics Co.
The probe found that the highly flammable nitrocellulose -- used in medical applications and in lacquers -- lost humidifying agents, dried out and began to burn in Tianjin's hot August weather.
The flames subsequently spread to Ruihai's illegally stored ammonium nitrate fertilizer and sparked two explosions.
The blast killed 165 people -- including 99 firefighters -- and injured hundreds more. An investigator told state TV that firefighters were not aware of the ammonium nitrate stores when they responded to the fire.
The new charges reportedly include suspicion of dereliction of duty, abuse of power and bribery. Dozens of people, including local authorities and warehouse executives, were previously arrested for failing to enforce safety standards.
Investigators said that Ruihai did not disclose plans to store hazardous materials at its facilities and colluded with government officials to receive approval for the project.
"If normal day-to-day supervision had been performed, Ruihai should not have and would not have become an out-of-control bundle of explosives," investigator Li Wanchun told CCTV.