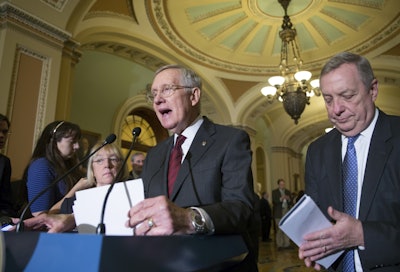 Senate Democrats on Thursday proposed $400 million in new emergency federal funding to replace and fix lead-contaminated pipes in Flint, Michigan.
The bill requires the state of Michigan to match federal spending, dollar for dollar. Democrats say state officials have a primary responsibility to fix the crisis "because they made a number of irresponsible decisions that caused it."
Michigan Gov. Rick Snyder, a Republican, has estimated the cost of replacing Flint's water supply infrastructure at $767.4 million, Democrats said.
The measure, to be introduced Thursday, also requires federal action if a state refuses to warn the public about unsafe water and authorizes $20 million a year to monitor lead exposure in Flint.
"The water crisis in Flint is an immense failure on the part of the state of Michigan to protect the health and safety of the city's residents," Sen. Gary Peters, D-Mich., one of the bill's co-sponsors, said in a statement. "While the state must accept full responsibility, the federal government can leverage investments the state needs to make."
"This legislation puts the attention and focus where it needs to be — helping the children and families of Flint," added Sen. Debbie Stabenow, D-Mich., another co-sponsor.
The Michigan senators and other Democrats were expected to offer the measure as an amendment to a Senate energy bill.
Flint's water became contaminated when the financially-struggling city switched from the Detroit municipal system and began drawing from the Flint River in April 2014 to save money. The city was under state control at the time.
Regulators failed to ensure the water was treated properly and lead from pipes leached into the supply, leading to a spike in child lead exposure. Some children's blood has tested positive for lead, a potent neurotoxin linked to learning disabilities, lower IQ and behavioral problems.
Sen. Dick Durbin of Illinois, the No. 2 Democrat in the Senate, said as many as 7,000 children have been "poisoned because of lack of proper government oversight" in Flint.
Senate Minority Leader Harry Reid, D-Nevada, said Snyder tried to "save a few bucks with the water and, in the process, poisoned lots of people."
Reid said the Senate should focus on other municipal water supplies beyond Flint. "We have a lot of communities around this country who have lead pipes, and a very deteriorating water system," he said.
The Senate was voting Thursday on amendments to the energy bill, the first comprehensive energy legislation to come up for a vote in the Senate in nine years.
The wide-ranging bill, co-sponsored by Sens. Lisa Murkowski, R-Alaska, and Maria Cantwell, D-Wash., would update building codes to increase efficiency, strengthen electric grid safety standards and promote development of an array of energy forms, from renewables such as solar and wind power, to natural gas, hydropower and even geothermal energy. The bill also would speed federal approval of projects to export liquefied natural gas to Europe and Asia and reauthorize a half-billion dollar conservation fund that protects parks, public lands, historic sites and battlefields.
Fierce, partisan fights over the measure are expected as lawmakers offer amendments responding to President Barack Obama's energy policies and efforts to slow climate change.
Republicans promised amendments to block an administration plan to halt new coal leases on federal lands, for instance, while Democrats said they would push policies to address global warming. Battles also are expected over the 11-year-old Renewable Fuel Standard, which promotes ethanol and other biofuels, as well as Republican plans to block a controversial federal rule protecting small stream and tributaries.