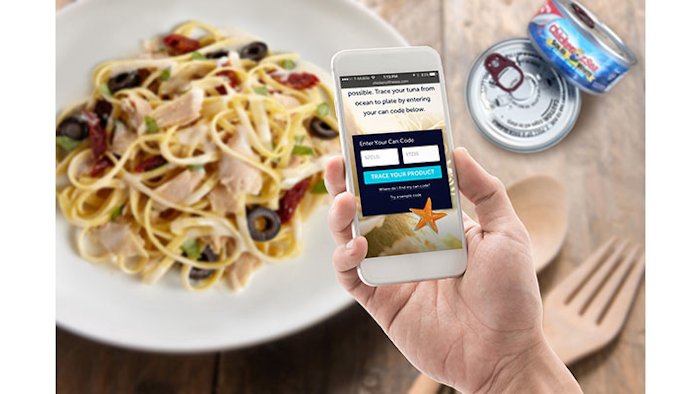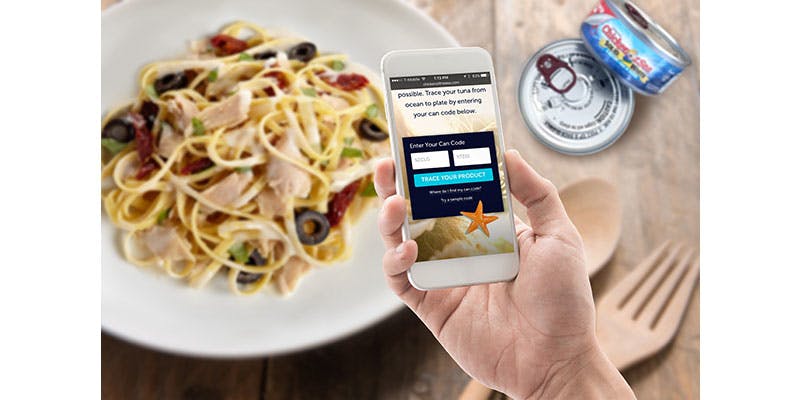 SAN DIEGO, Calif.  (Sept. 12, 2016) –– Chicken of the Sea International has launched a digital traceability initiative allowing customers to trace the source, processing location and fishing method of their seafood, as part of its commitment to seafood sustainability.
The new interactive program currently covers all Chicken of the Sea® shelf-stable tuna products and will soon allow seafood lovers to trace the company's entire shelf-stable product line.
Today's announcement and activation of Chicken of the Sea Trace Your Product establishes the San Diego-based seafood provider's commitment toward 100% digital traceability. The program is a cornerstone of SeaChange®, the company's global sustainability strategy with initiatives encompassing marine conservation, responsible sourcing and operations, caring for communities and safe and legal labor standards.
"It is important for our customers to have an opportunity to know the story behind their fish – where it came from, how it was caught, where it was canned and how the process fits within our sustainability program," said Jennifer Woofter, Chicken of the Sea's director of sustainability.  "Traceability is an essential step in the responsible sourcing and sustainability process and we are excited to make this development available to our customers."
Digital traceability: How does it work?
Chicken of the Sea customers simply enter the 10- to 15-digit number located on the bottom of their Chunk Light, Chunk Light Albacore and Solid White Albacore tuna in 3-oz., 5-oz., 7-oz. and 12-oz. cans to receive answers to seven specific questions:
What is My Seafood? Visitors are given an initial description of their tuna or other seafood species.
Where Was My Seafood Caught? These results include a world map showing the Food and Agriculture Organization (FAO) Area where the tuna or other seafood was caught, and a link to a species-specific stock status report from the International Seafood Sustainability Foundation (ISSF).
What Fishing Method Was Used? This section includes both the fishing method and vessel size.
What Fishing Vessel Caught My Seafood? This information includes fishing vessel name, nation of registry and fishing trip start and end dates.
How was my Seafood Processed? The processing method is subject to Chicken of the Sea's strict compliance requirements and
Where was my Seafood Canned? The can code indicates where the seafood was processed and canned, which may not necessarily be where it was caught.
How Does Chicken of the Sea Support Sustainability? This section details Chicken of the Sea's commitment to sustainability as part of the SeaChange® program.
To access Chicken of the Sea Trace Your Product, go to http://chickenofthesea.com/trace. For details of Chicken of the Sea's larger commitment to sustainability, go to http://chickenofthesea.com/company/sustainability.
About Chicken of the Sea
Founded in 1914, Chicken of the Sea (COS) is a leading provider of healthy, sustainable and delicious seafood, offering not only a robust product line but the recipes and meal-planning insights needed to inspire seafood lovers to greater culinary creativity and inspiration. The company provides tuna, salmon, clams, crab, oysters, shrimp, mackerel, kipper snacks and sardines in cans, cups and pouches as well as innovative new products consistent with seafood's growing status as a healthy "new" protein choice in America.
Headquartered in San Diego, COS responsibly sources its seafood products from around the world, and packages them at a state-of-the-art processing facility in Lyons, Ga., as well as at third-party facilities. The company is led by a team of industry veterans with more than 300 years of collective experience in the packaged seafood industry.