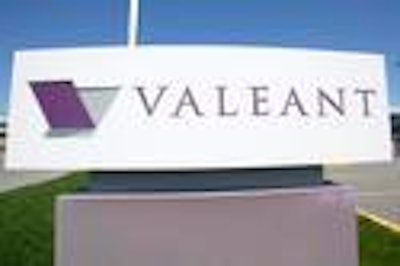 NEW YORK (AP) — Embattled Valeant Pharmaceuticals fell short of profit expectations in the fourth quarter and slashed its guidance for the current quarter and year.
Shares slumped 11 percent before the opening bell Tuesday.
Valeant is facing a Securities and Exchange Commission investigation and, separately, scrutiny from Congress over its drug pricing. CEO Michael Pearson recently returned to work after two months due health problems and delayed the company's quarterly earnings report by two weeks.
Bill Ackman's hedge fund Pershing Square Capital Management is one of Valeant's biggest shareholders. Earlier this month, Valeant added three directors to its board, including a Pershing Square executive.
For the three months ended Dec. 31, Valeant Pharmaceuticals International Inc. lost $336.4 million, or 98 cents per share. Excluding one-time items, earnings were $2.50 per share, far short of per-share earnings of $2.64 that Wall Street expected, according to a survey by the Zacks Investment Research.
Revenue totaled $2.79 billion, which topped analyst projections for $2.76 billion.
Valeant again said that the results are preliminary as it reviews its relationship with one-time partner, Philidor. The company is now including a line-item in its earnings particularly related to costs of winding down that arrangement.
Valeant said it settled a lawsuit over a billing dispute with R&O Pharmacy LLC, with R&O making an unspecified payment to Valeant. Valeant has said that Philidor's pharmacy network includes R&O. Other terms of the settlement remain confidential, and Valeant said it refutes any suggestion of wrongdoing.
Valeant now anticipates a first-quarter adjusted profit between $1.30 and $1.55 per share on revenue in a range of $2.3 billion to $2.4 billion. Its prior outlook was for an adjusted profit between $2.35 and $2.55 per share on revenue in a range of $2.8 billion to $3.1 billion.
For 2016, the company now foresees an adjusted profit between $9.50 and $10.50 per share on revenue in a range of $11 billion to $11.2 billion. Its previous forecast was for an adjusted profit between $13.25 and $13.75 per share on revenue in a range of $12.5 billion to $12.7 billion.
Analysts polled by FactSet expect first-quarter profit of $2.62 per share on revenue of $2.84 billion and a 2016 profit of $13.27 per share on revenue of $12.42 billion. .