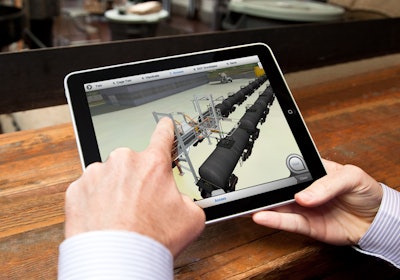 Even in today's fast-paced economy, it can take manufacturers weeks or months to deliver customized products. The process begins with an initial conversation about what the customer needs, which is then relayed to engineers to see what's possible. Drafting, pricing and the manufacturing process itself add to turnaround time. Rob Honeycutt's company, SafeRack, is using a new software to drastically reduce wait time by placing the possibilities right in its customers' hands via iPad. In an exclusive interview with Manufacturing.net, SafeRack co-founder and CEO Honeycutt describes how this software works, how it has impacted his business and how the technology is poised to change manufacturing as a whole.
Katie Mohr (KM): What is the current process for custom manufacturing?
Rob Honeycutt (RH): In the old way of doing it, which persists for 99 percent of manufacturers, the salesperson goes out, gathers information, goes back to engineering department, waits a couple of weeks, gets a design and gets a quote. It's literally months before the customer can get the product.
Manufacturers have antiquated processes where the salesperson is using spreadsheets to create proposals and using an engineering department to basically help design the custom solution for the customer. Later, once they get the order, they're using old process steps to do manual drawing, and in most cases, there's no automation and no efficiency built into that.
KM: How did this software come to fruition, and how does it work?
RH: Our first version was in 2010, when the iPad came out. The genesis behind the software was mobility so our salespeople could have an engineer with them in front of the customer, as they're designing a solution. With the software, a salesperson can go collaborate and design it on an iPad and give the customer a quote and the drawing instantly. They can place an order that will go straight into manufacturing and production. Because the software can run on a desktop or an iPad, it can be with a salesperson at a tradeshow or a consultation.
In 2012 we started and are part owners of Atlatl Software, which is a company in Charleston, South Carolina, that does those configurations and software for other customers as well.
As for functionality, you literally just click a mouse and design objects like you would in a video game, picking menu options as you go. All of the engineering rules — specifically 170,000 — run in the background and are built in like training wheels, so you can't design something that can't actually be manufactured.
In this example, you can make the platforms wider and longer, and as it stretches, tower supports drop in automatically. We used to have our engineering department tell us when that needed to happen. As length stretches, an optimization wizard is running in the background to include as many standard handrails as possible and as few custom as possible.
KM: How does the custom design then enter the manufacturing process?
RH: The program does all the drawing, creates the quote and generates product numbers, which would take most manufacturers a month to get through their systems.
The design is immediately entered in the ERP system, so that the second a customer orders it, it automatically converts into our engineering software and manufacturing software. Then, the work order is released to the shop.
KM: How can this software run on an iPad, while other engineering software can weigh down a desktop computer?
RH: That's exactly the reason why you don't see a lot of engineering software running on mobile devices. It's not lightweight.
But this platform was built around animated graphics and video game-type technology. The people who built the software, in some cases, were video game programmers, so it was designed by the same people that would design your Minecraft app or something of that nature.
Even though the term "video game" is common language in how we describe this, the engineering and all the disciplines are built in and very reliable. It has the same tolerance that AutoCad or a SolidWorks engineering software would have.
KM: What benefits does this program provide?
RH: The productivity and the efficiency gains are through all the integrations that occur to invite automation — the reduction or the elimination of process steps. If you buy something on Amazon, for example, you get an order confirmation and then the product automatically comes off the shelf and goes on a conveyer to get boxed.
If you compare that with manufacturers, there's a whole revolution that's going to occur over the next decade. We're able to ship stuff in days that our competitors take months to ship. And all customers care, regardless of the industry.
Secondly, even if an iPad could run an engineering software, the user interface would likely not be easy enough for a salesperson to use. In that way, it has also helped us to train new salespeople. It used to take us two years to train a salesperson and have them thoroughly understand the product, so it wasn't usual for us to hire only one or two per year. It was a great investment of time and money. In 2010, we had 16 salespeople. Because of this software, we now have 60 salespeople.
It just gives me goosebumps. It empowers us to focus on what's important, which is customer satisfaction and giving them quick, customized solutions with fast deliveries at competitive prices.