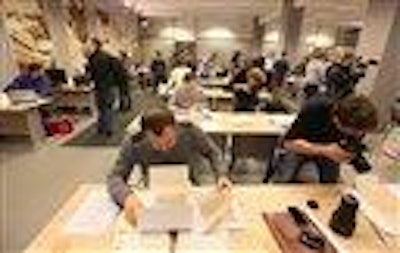 WARSAW, Poland (AP) — An informant codenamed "Bolek" provided information on the views and actions of his colleagues at the Gdansk shipyard to Poland's communist-era secret police, according to documents released Monday that purport to show that national hero Lech Walesa collaborated with the regime in the 1970s.
Photocopies of the documents, from the secret police's file on Walesa, were released by the state National Remembrance Institute. They include details of the information that Bolek provided, receipts for money signed by him, and finally his discharge from collaboration when he was no longer considered a valuable source.
Walesa, 72, the founder of the pro-democracy Solidarity movement that eventually helped topple communism, a Nobel Peace Prize laureate and Poland's first popularly elected president, claimed Monday that the documents were forged.
The papers include a one-page handwritten note declaring readiness to provide information to the secret police, signed by hand with the name Lech Walesa and the codename "Bolek."
"I commit myself to cooperate with the secret police in exposing and fighting the enemies of the PRL (Polish People's Republic)," the document said, using the official name of Poland during the communist era. It was dated Dec. 21, 1970, a time when Walesa was a leader of worker protests at the shipyard in Gdansk where he worked as an electrician. The protests ended in bloodshed.
But another note, from three days later and also signed "Lech Walesa," is in different handwriting. The author says he is afraid that an upcoming meeting required by the security police is a "trap."
The documents show that at first Bolek eagerly provided information on opinions and actions by his co-workers and took money for the information. With time, he tried to avoid meeting the secret police officers or provided valueless information and demanded the contacts stop. The collaboration was terminated in 1976.
Allegations against Walesa are not new and he has long acknowledged that he signed a document in the 1970s agreeing to provide information to the much-hated secret police, though he insisted he never informed on anyone and never took any money. Breaking away from such a commitment required courage because it usually led to dismissal from a job and other persecution. In 2000, Walesa was cleared by a special court, which said it found no evidence of collaboration.
Walesa founded Solidarity in 1980 out of a worker protest. The pro-democracy movement helped bring down communism after nine years of struggle. In 1983 he was honored with the Nobel prize and in 1990 he was elected president in a national vote.
The last document in the released files, dated February 1976, says a secret police officer reprimanded Bolek for having criticized the communist party and threatened he would lose his shipyard job. Walesa lost his job that year.
The institute says the documents are authentic papers produced by the secret police of the time, although it is still possible that the police fabricated them — a common practice then. They surfaced last week at the home of the last communist interior minister, Gen. Czeslaw Kiszczak, who died last year. His widow offered to sell them to the institute, but authorities immediately seized them, acting on a law that gives them the right to important historical documents.
The files contain a note from Kiszczak requesting they not be made available until five years after Walesa's death.
A 1973 report by a secret police officer who regularly met with Bolek says he refused any further cooperation, arguing he was "getting nothing, no money out of it." According to the report Bolek agreed to collaborate in 1970 out of fear of persecution after the workers' protest.
There were more reports from meetings with Bolek through February 1976, but in their comments the secret police officers said they found them of no value.
The move to open the files so quickly — allowing journalists to see them before historians can analyze them — has proven hugely controversial. Walesa supporters accuse authorities of trying to tarnish the legacy of a man widely considered one of Poland's greatest national heroes. Many people have come to his defense, including former Solidarity activists who recalled how the police used brutal tactics to coerce regime critics to sign agreements to collaborate, as a tool for future blackmail, whether they acted on it or not.
Others, including members of the new government, say it's important to clarify Walesa's role.
The head of the ruling party, Jaroslaw Kaczynski, has long been a bitter political foe of Walesa's — and Walesa has recently been denouncing the new government as a threat to democracy.
"I think that above all we need to know the truth," Prime Minister Beata Szydlo said Monday. "Poles deserve this truth and the most important thing is to dispel all doubts."