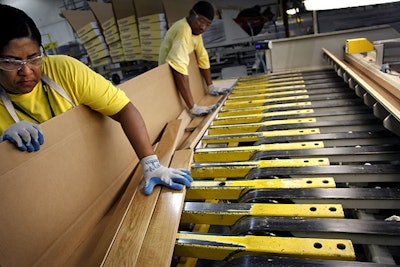 Selected types of laminate flooring made by Lumber Liquidators could pose a greater cancer risk than previously believed, federal health authorities announced last week.

The Centers for Disease Control and Prevention said that an initial analysis of flooring containing formaldehyde used an incorrect ceiling height value, which led to airborne concentration estimates that were roughly three times lower than they should have been.

The revised study increased the estimated cancer risk from 2 to 9 cases per 100,000 people to 9 to 30 cases, although researchers said that the risk was likely lower due to the conservative models used in the analysis.

In addition, the revisions found that formaldehyde exposure could cause increased respiratory issues for those with asthma and COPD, and that exposure to the lowest levels in the model could cause eye, nose and throat irritation.

"Our recommendations will likely remain the same," the agency said in a statement. "We strongly stress taking steps to reduce exposures, which should alleviate respiratory and eye, nose and throat irritation. These steps should also reduce the cancer risk."

A report by "60 Minutes" nearly one year ago first disclosed that Lumber Liquidators' Chinese-made laminate flooring contained elevated formaldehyde levels.

The company strongly disputed the tests used in the initial report, but Lumber Liquidators later suspended sales of the flooring in question in the midst of safety probes and civil lawsuits. The company's CEO unexpectedly resigned last May.

Shares of Lumber Liquidators stock plunged more than 18 percent in the wake of the revised CDC study.