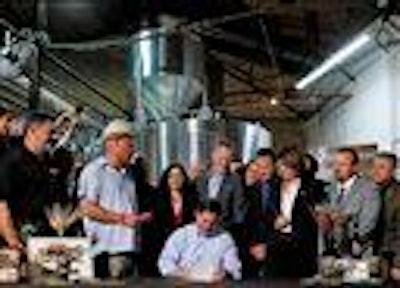 PHOENIX (AP) — A growing Tempe, Arizona-based craft brewer on Friday became the latest microbrewery bought by a beer giant as major industry players move into the niche market that has captured more than 10 percent of beer sales in recent years.
The announcement that Anheuser-Busch InBev is buying Four Peaks Brewing Co. came just 9 months after the small brewer successfully pushed for a new state law expanding production limits on microbreweries.
However, the deal raises questions about how Four Peaks can maintain its current licensing structure once it is owned by one of the world's largest breweries. Anheuser-Busch, however, said there's no licensing issue.
The deal includes Four Peaks' two Tempe pubs, one in Scottsdale and a location at Phoenix Sky Harbor International Airport, as well as its statewide craft beer distribution business.
Terms of the deal set to close in the first quarter of 2016 were not disclosed.
Anheuser-Busch said in a news release that the deal marks the sixth craft brewery purchase by the company's specialty craft and import brand business known as The High End.
Four Peaks was founded in 1996 by Jim Scussel, Randy Schultz and Andy Ingram, who issued statements Friday saying they hope partnering with Anheuser-Busch expands the reach of the company.
"As the leading craft brewery in Arizona, we're proud of what we've built and of our brewing heritage," Scussel said. "We're excited to build on that success with The High End."
Arizona Gov. Doug Ducey signed a bill in March increasing the production cap for state microbreweries as Four Peaks neared the old limit. The microbrewery got the cap changed twice previously to allow it to keep its license and still own and run restaurants.
Ducey praised the deal on Twitter, saying "great beer and hard work pay off!" Others on social media lamented the loss of local control of the brewery.
The new law allows microbreweries to keep up to seven retail locations and brew up to 6.2 million gallons of beer each year. After that, they'll have to give up their restaurants and apply for a producer license.
Lee Hill, spokeswoman for the Arizona Liquor Department, said it was unknown whether the new ownership means Four Peaks will have to give up its restaurants in order to grow its brewing business.
For now, the agency is reviewing the state licensing law to determine how it might apply and will wait for a formal application filing that lays out the new ownership structure.
Four Peaks expects its 2015 brewing total to reach about 2.1 million gallons. It will continue to brew its flagship Scottish-style ale, Kilt Lifter, which accounts for more than 60 percent of its sales, as well as other specialty brews.
Americans' enthusiasm for microbrews reached new heights in 2014 as craft brewers accounted for 11 percent of the U.S. beer market, according to the Brewers Association, a trade group for small, independent brewers.
Big brewers have noticed, snapping up small craft breweries as companies like Anheuser-Busch seek to tap into the market.
The popularity pushed craft breweries up against the country's longstanding three-tier system that governs the beer industry. The tiers consist of large breweries, distributors and retailers.
The system was designed to prevent mega breweries such as Anheuser-Busch from controlling beer production, distribution and retail sales at restaurants and stores.