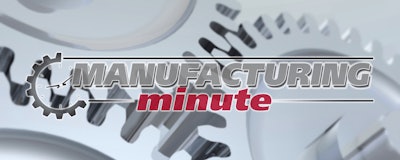 This week in manufacturing, we looked at a transparent bubble atop planes, a speedy automated shoe factory, a high-tech gel-like bandaid and durable displays for your shoes. Take a look at this week's Manufacturing Minute Recap.
Flying With Your Head In The Clouds
In this episode, Windspeed Technologies offers a 360-degree view via SkyDeck, a transparent bubble installed on the top of a plane. Check out the view here:
Adidas's Speedfactory — A Glimpse Into The Future (Maybe)
In this episode, Adidas's automated "speedfactory" lands in Germany. Learn about the the company's hopes for it here:
A 'Smart Band-Aid' For The 21st Century
In this episode, MIT engineers have created a gel-like bandaid that can administer medication. Look at the high-tech bandage here:
Bendable, Waterproof Screens For Your Feet
In this episode, ShiftWear's durable display shoes let you create and wear your own designs. Check out the concept here:
SO, WHAT DO YOU THINK?
Are these futuristic technologies beneficial to consumer needs? What about the needs of manufacturers? Would you use any of them?
Email us or leave your comments below.