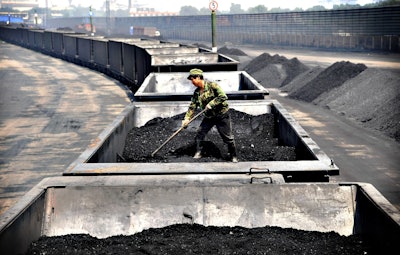 Global demand for coal has stalled for the first time in more than a decade, according to a new report from the International Energy Agency.

The IEA's annual analysis of the coal market lowered its five-year forecast by the equivalent of 500 million tons of coal, largely due to changing conditions in China, which accounts for more than half of global coal consumption.
Coal demand in China declined last year and is expected to see a larger drop this year amid a continued sluggish economy. If the forecast for 2015 holds, it would be the first multi-year decline in more than 30 years.

Broader economic patterns in China, however, are also at work. IEA analysts said that the Chinese economy is shifting from energy-intensive industries to the service sector.

In addition, government efforts to improve energy security, curb climate change and address local pollution led to new nuclear, wind, solar and hydroelectric power production.

One of the agency's models assumes that Chinese coal demand has already peaked, which would lead to a slight decline in worldwide coal demand over the next five years.
The group's primary report, however, anticipates a modest increase in coal demand as increasing electrical capacity in India and Southeast Asia offsets declines in the coal industry in the U.S. and Europe.

"The coal industry is facing huge pressures, and the main reason is China, but it is not the only reason," said IEA Executive Director Fatih Birol. "The economic transformation in China and environmental policies worldwide, including the recent climate agreement in Paris, will likely continue to constrain global coal demand."

Prices, meanwhile, should remain low through 2020 due to declining imports in China and a general oversupply in the global coal market.

IEA analysts added that achieving the goals set out in the recent Paris agreement — which in part aims to keep the global temperature increase well below 2 degrees Celsius — will require carbon capture technology in order to continue burning coal.
"[Carbon capture and storage] is not just a coal technology," Birol said. "It is not a technology just for power generation. It is an emissions reduction technology that will need to be widely deployed to achieve our low-carbon future."