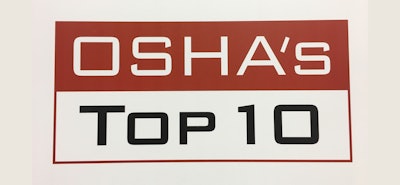 Greetings from Anaheim, CA, IMPO readers. I'm here at the National Safety Council Congress & Expo, where in the Anaheim Convention Center, where OSHA has unveiled its annual Top 10 Most Cited Violations it encounters during workplace safety inspections throughout the U.S. The list not only alerts industrial suppliers and distributors of the safety areas they should pay extra attention to, but also gives them an idea what safety product categories will be the most popular throughout the next year.
"Every year the OSHA Top 10 serves as a guide for employers to address the biggest safety risks facing their employees," said NSC President and CEO Deborah A.P. Hersman. "We look forward to working with employers to reduce these incidents and ensure every workplace is on a journey to safety excellence."
Patrick Kapust, deputy director of OSHA's Directorate of Enforcement Programs, unveiled the list via a powerpoint presentation during Day 2 of NSC's expo in front of a packed crowd of safety professionals on the show floor.
To no surprise, Fall Protection once again maintained the top spot, with OSHA making 6,929 citations during fiscal year 2016. That's up from 6,721 in 2015. Hazard Communication and Scaffolding repeated as the second and third-most cited violations, with HazCom registering nearly 500 more citations than a year ago. The rest of the top seven also remained the same, in the order of Respiratory Protection, Lockout/Tagout, Powered Industrial Trucks and Ladders. At No. 8, Machine Guarding moved up one spot from 2015, Electrical Wiring moved down one, while Electrical General Requirements rounded out the top 10 once again.
Seven of the 10 had more citations than a year ago, with only Scaffolds, Electrical Wiring and Electrical General Requirements improving with sizeable less violations.
Here's OSHA's 2016 fiscal year most cited workplace violations. The figures are preliminary as of Sept. 30:
Fall Protection, 1926.501 (C) — 6,929 citations (+208 from 2015)

Hazard Communication, 1910.1200 — 5,677 citations (+485 from 2015)

Scaffolds, 1926.451 (C) — 3,906 citations (-389 from 2015)

Respiratory Protection, 1910.134 — 3,585 citations (+280 from 2015)

Lockout/Tagout, 1910.147 — 3,414 citations (+412 from 2015)

Powered Industrial Trucks, 1910.178 — 2,860 citations (+100 from 2015)

Ladders, 1926.1053 (C) — 2,639 citations (+150 from 2015)

Machine Guarding, 1910.212 — 2,451 citations (+156 from 2015)

Electrical Wiring, 1910.305 — 1,940 citations (-464 from 2015)

Electrical, General Requirements, 1910.303 — 1,704 citations (-269 from 2015)